Avenir du bassin Peel: la mobilisation continue à Pointe-Saint-Charles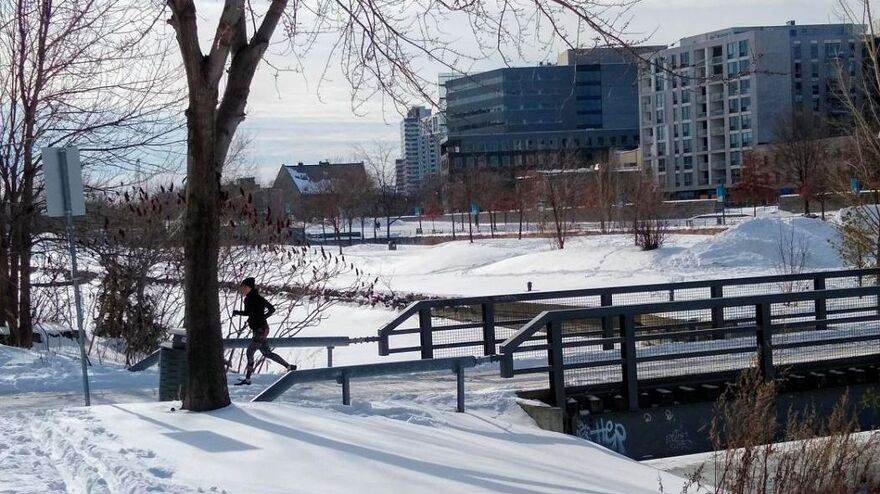 Une partie du bassin Peel
Photo: Archive Métro - Annie Bourque
Lila Maitre
18 février 2022 à 17h46 3 minutes de lecture
Depuis plusieurs années, le bassin Peel, situé dans le secteur Bridge-Bonaventure, fait l'objet de nombreuses discussions sur son aménagement. Alors qu'un projet de club de baseball partagé, dont le terrain aurait pu être construit sur le site, est tombé à l'eau en janvier dernier, l'avenir du bassin Peel fait de nouveau parler de lui, notamment du côté des organismes de Pointe-Saint-Charles.
En organisant une assemblée citoyenne mercredi dernier, La Corporation de développement communautaire de Pointe-Saint-Charles, Action-Gardien, remet au goût du jour, après deux ans de pandémie, la mobilisation qui est en cours depuis plusieurs années. L'organisme y a présenté son projet de mettre en place 1000 logements sociaux.
Les citoyens ont été invités à prendre la parole et à proposer des initiatives. «Au-delà de s'impliquer dans des concertations, on veut aussi montrer l'adhésion locale et la force de la communauté autour de ce projet-là», explique la coordonnatrice à Action-Gardien, Karine Triollet.
Les citoyens ont notamment proposé de faire du porte-à-porte dans le quartier afin de sensibiliser les habitants.
Plusieurs visions
Le secteur, situé à l'est de Pointe-Saint-Charles, est convoité depuis plusieurs années pour une diversité de projets d'aménagement. Les terrains appartiennent à différents acteurs, parapublics comme la Société immobilière du Canada (SIC) et Loto-Québec, et privés à l'instar de Devimco.
En 2019, le promoteur immobilier Devimco présentait un plan d'aménagement qui incluait un pôle d'emploi et de logements, dont l'architecture rappelle celle des immeubles du centre-ville et de Griffintown. La compagnie souhaite attirer plusieurs centaines d'entreprises et créer des milliers d'emplois, et envisageait d'y inclure le terrain de baseball, avant l'abandon du projet.
De son côté, Action-Gardien revendique la mise sur pied des logements sociaux, pour développer le secteur résidentiel de Pointe-Saint-Charles, ainsi que des aménagements urbains.
«C'est très important pour nous que, si on a encore des terrains publics, il faille les garder en dehors du marché spéculatif pour les utiliser pour un milieu de vie qui va répondre aux besoins des habitants de Pointe-Saint-Charles, et de Montréal», précise Karine Triollet.
Réglementation et financements
Le projet d'Action-Gardien se situerait en majorité sur les terrains de la SIC, mais aussi sur ceux de Loto-Québec et de Devimco. Un objectif qui demanderait un accord avec les différents acteurs, notamment le gouvernement fédéral.
«La SIC a des engagements de rentabilité sur ses terrains, donc si on veut compétitionner avec des promoteurs immobiliers comme Devimco, il faut aller chercher du financement de plusieurs manières», explique l'organisateur communautaire du Regroupement Information Logement (RIL) de Pointe-Saint-Charles, Francis Dolan, en évoquant un nouveau programme fédéral qui prévoit qu'une partie des terrains excédentaires répondent à des enjeux de logements en lien avec la stratégie nationale sur le logement.
Pour l'instant, la Ville de Montréal continue la planification stratégique du bassin Peel avec le gouvernement du Canada et les partenaires, comme l'avait mentionné en janvier dernier dans un gazouillis la mairesse Valérie Plante.
Les organismes impliqués attendent la publication d'un plan directeur de la Ville, qui devrait sortir prochainement, et qui permettrait de définir des réglementations et une vision globale pour le bassin Peel.
Ces terrains font bel et bien partie de la Pointe-Saint-Charles.
C'est plutôt le secteur ouest du quartier qui n'en fait pas véritablement partie, le village de Saint-Gabriel étant à l'origine hors les limites de la Cité.
Carte Goad pour l'annuaire Lovell de 1903-1904.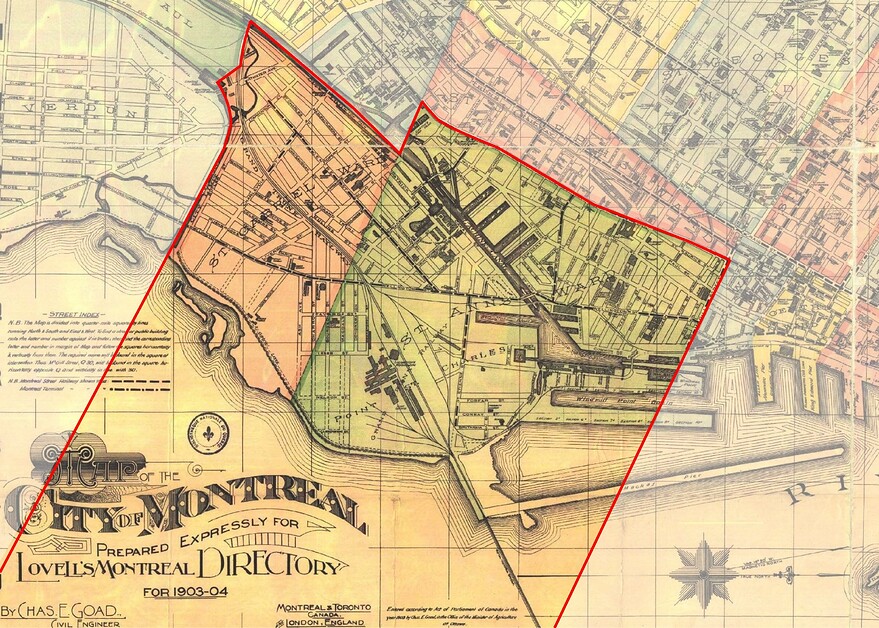 Secteur Bridge-Bonaventure Montréal veut développer près de 4000 nouveaux logements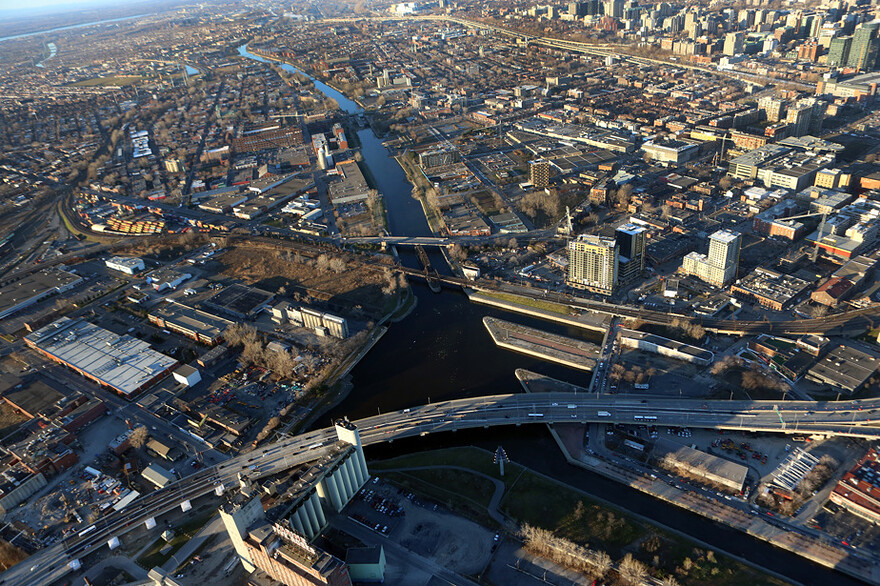 PHOTO MARTIN CHAMBERLAND, ARCHIVES LA PRESSE
Le secteur Bridge-Bonaventure fait 2,3 kilomètres carrés, et est situé à cheval sur les arrondissements du Sud-Ouest et de Ville-Marie.
Montréal veut développer près de 4000 nouvelles unités d'habitation et tripler le nombre d'emplois dans le secteur Bridge-Bonaventure, dont le redéveloppement fait l'objet de discussions depuis quelques années déjà. L'administration Plante s'est aussi déjà engagée, cet automne, à créer une promenade riveraine. Mais les premiers travaux n'auront pas lieu avant 2024.


Henri Ouellette-Vézina La Presse
Publié à 10h21
« On arrive avec une vision équilibrée, qui reconnait l'identité du secteur, mais qui permet aussi un renouveau urbain », affirme le responsable des dossiers d'urbanisme au comité exécutif, Robert Beaudry, qui a présenté mardi sa « vision préliminaire » pour Bridge-Bonaventure, en entrevue à La Presse.
Il chiffre à 3800 le nombre de nouvelles unités qui pourraient être construites dans le secteur, aux abords du bassin Wellington, dont 1270 logements sociaux et abordables ainsi que 320 logements familiaux.
La création de « nombreux espaces verts » est aussi au cœur de la vision préliminaire de la Ville, qui aimerait par ailleurs voir une station du REM dans le secteur. En octobre, pendant la campagne électorale, la mairesse Valérie Plante avait promis de créer une promenade riveraine sur les berges du fleuve Saint-Laurent. Montréal propose donc de créer « 48 hectares de nouveaux espaces verts publics » et cinq kilomètres de berges, le long du fleuve et du canal de Lachine. Une douzaine de kilomètres de voies cyclables seraient aussi ajoutées de part et d'autre de la nouvelle promenade.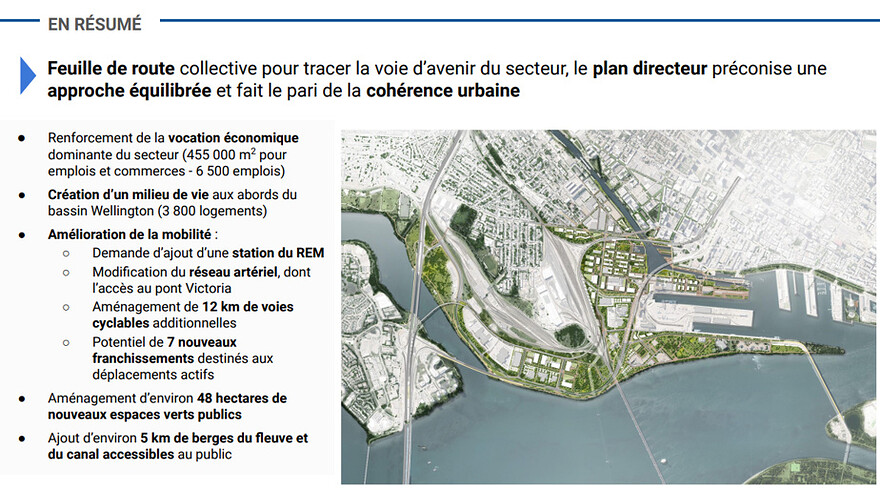 COURTOISIE VILLE DE MONTRÉAL
« Ce qu'on voudrait, ce sont des promenades accessibles pour tous et sécuritaires. Ça implique donc une certaine révision de l'espace. L'industrie actuelle est un atout, mais elle génère aussi des nuisances. L'objectif serait donc de diriger la circulation de camionnage vers les axes principaux de transit, par exemple l'autoroute Bonaventure, donc vraiment d'utiliser davantage le réseau supérieur que les petites rues », convient M. Beaudry, en ajoutant que les nouveaux logements seraient également développés sur le réseau local, « pas trop près des industries lourdes ».
Le stade « pas à l'ordre du jour »
Pour l'instant, le plan de la Ville n'inclut pas le projet de stade de baseball de l'homme d'affaires Stephen Bronfman. Ce dernier s'était pourtant montré très optimiste à l'idée de voir son projet se concrétiser, en décembre dernier, à l'issue d'une rencontre avec la mairesse Valérie Plante. « C'est un intrant majeur pour le secteur, mais actuellement, on comprend que le projet n'est pas à l'ordre du jour, donc nous on travaille avec notre vision sur le développement économique », a brièvement confié M. Beaudry à ce sujet.
Il dit surtout viser à « tripler le nombre d'emplois » dans le secteur Bridge-Bonaventure, qui en compte actuellement 2000 à travers une cinquantaine d'entreprises. « On veut se rendre à environ 6500, en misant notamment sur les technologies propres, les entreprises culturelles et liées au tourisme, l'artisanat. On a une capacité d'accueil de 455 000 mètres carrés pour du développement économique », dit-il.
Pour attirer plus d'employeurs, la Ville compte d'ailleurs « capitaliser » sur de grands joueurs déjà bien implantés, comme le Port de Montréal, la minoterie ADM, les Forges de Montréal ou les industries MELS. « La stratégie, ça va être de joindre des petites entreprises qui ont intérêt à se situer près de ces grands joueurs-là », confie l'élu municipal à ce sujet.
Montréal veut déposer « d'ici l'automne » son plan final à l'Office de consultation publique (OCPM), afin que la population se prononce. L'exercice avait déjà été réalisé entre 2019 et 2020. Cette fois, la Ville vise l'adoption d'un règlement dès 2023, pour entamer des travaux en 2024. Les projets immobiliers pourraient être lancés à la mi-2025, voire au début 2026.
Est-ce que la ville sera aussi sévère dans l'évaluation de l'intégration urbaine et que le tout soit beau comme elle le fait pour le REM de l'Est lorsqu'elle approuvera les constructions de Devimco?
Pour la station du REM, à moins que quelqu'un sort son portefeuille, ça n'arrivera pas.
Pas mal certain que CDPQ infra sera intéressée à récolter la captation foncière dans un rayon d'un km autour de cette nouvelle station. Mais si quelqu'un d'autre paie la station, est-ce qu'elle pourra le faire?
La captation foncière du projet est plafonné à 600M$, et la Caisse est déjà bien en avance sur cette objectif (ie: elle laisse de l'argent sur le côté). Je crois qu'elle a déjà capté 300M$ et le secteur Fairview n'est même pas encore entammé et le service n'est même pas encore amorcé. Perso je ne comprends pas pourquoi ils ont mis un plafond dès le départ.
Je ne vois pas une clause d'exclusion pour cet endroit exclusivement au contrat ni de motivation de la Caisse pour ajouter cette station.
Ceci-dit, Devimco a déjà mentionné qu'il voulait payer la station, et ainsi rendre sa destination plus attrayante et augmenter la valeur des projets donc plus de profits $$$$, mais je sens qu'elle risque de se rechigner en voyant la facture quand viendra le temps.
Ce qui me fait peur est que les 2 parties prenantes principales (Devimco client, CDPQi fournisseur), sont synchro dans leur motivation pour que cela coute le moins cher possible, si station il y aura.
À ma connaissance l'alignement du REM avait été prévu afin de permettre de relativement facilement ajouter une station dans le secteur. Même si la CDPQi ne consentait aucune somme à l'ajout de cette station, je m'attends à ce que les coûts soient assez bas pour que la ville puisse facilement trouver du financement. Vu qu'aucune pose de rail ne sera nécessaire, j'imagine que les seules dépenses à couvrir seront pour une station aérienne, l'aménagement urbain autour et la signalisation autour de la station, je doute que le projet revienne à plus de 300M$.
Ça serait un magnifique occasion en tout cas de réparer l'horreur qu'est la gigantesque structure au-dessus des rails près de la rue Bridge en y posant une station, et en y intégrant les horribles sous-stations électriques en façade sur la rue Wellington!
C'est le souvenir que j'ai également. L'ajout de cette station avait été évoqué à quelques reprises quand il a été décidé de déplacer celle du Bassin Peel à Griffintown.
En même temps, je suis pas mal moins geek que d'autres sur le REM. J'ai peut-être manqué quelque chose.
S'il y a une station du REM, elle serait le long de Wellington, Entre Bridge et Saint-Patrick.
La CDPQi a laissé la porte ouverte pour en construire une dans le futur s'il y a une demande.
J'imagine que ce serait juste après la courbe et avant la descente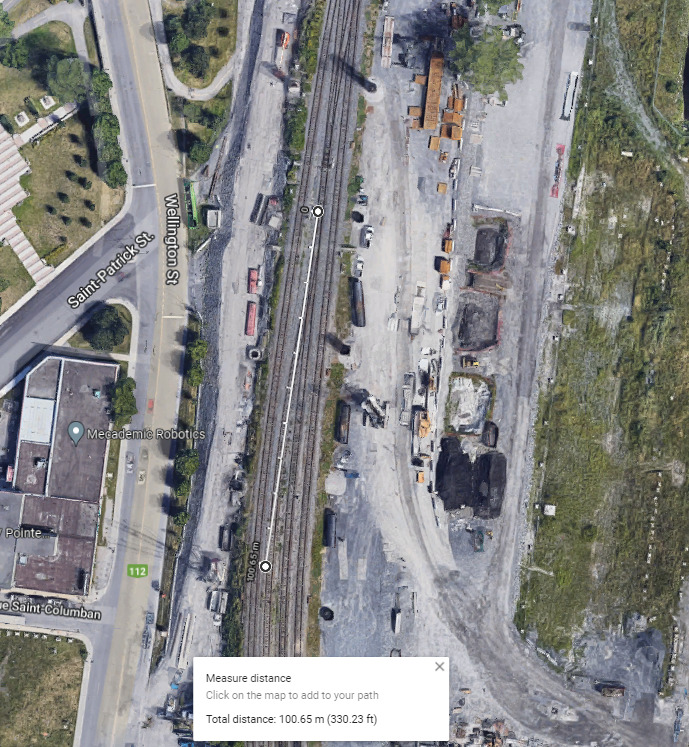 En passant, je me demande si on devrait pas avoir un autre fil plus global pour le « projet de la Ville » et la consultation de l'OCPM à venir, et limiter ce fil au projet de Devimco
Montreal's baseball stadium project is dead. Will it be replaced by condos or social housing?
Pointe-Saint-Charles residents are organizing to fight for the kind of development they want in their neighbourhood
News by
Savannah Stewart
March 30, 2022
"We're used to long fights, where we know when it starts but we don't know when it's going to end," says Karine Triollet.
She's the coordinator of Action-Gardien, a coalition of community groups based in Montreal's Pointe-Saint-Charles district, and a prominent voice for the interests of the neighbourhood. We're in a meeting room at their office space, poring over a map of what's known as the Bridge-Bonaventure sector: mostly industrial land to the east and south of the district's residential areas, bordering the now-trendy Griffintown.
It's a plan to develop the area in a way that meets the needs of current residents and that is in keeping with the neighbourhood's heritage.
With us is Francis Dolan of Regroupement Information Logement, a renters' rights group that is a member organization of Action-Gardien, and Jocelyne Bernier, a citizen activist who has called Pointe-Saint-Charles home for over 40 years.
They are part of the Bridge-Bonaventure committee, a group tasked with organizing a community engagement campaign planned for the spring. The message of this campaign? Development is coming, and what gets developed should meet the needs of residents in the neighbourhood.
Map of the Bridge-Bonaventure sector of Point-Saint-Charles
Action-Gardien
The area has seen increasing interest from developers in recent years, especially the northernmost portion, the Peel Basin. Up until recently, this was the area being eyed for a new baseball stadium, before a refusal by Major League Baseball to allow Montreal and Tampa Bay to share a team ended that project.
"That's one less thing to worry about," Triollet remarks.
It represented exactly the kind of development her group wants to prevent at all costs — a vanity project that didn't meet the needs of the local community. Though that project is dead, interest in the area lingers, and the question of what to do with the land remains.
Many, if not most, people can agree that Bridge-Bonaventure is not optimally used right now. It houses a handful of businesses and manufacturers, with a few lots unused and left to grow into wild patches of weeds in the summer. In one corner, a parking lot sits on what was once Goose Village, a working-class community that was razed to the ground on the orders of Montreal mayor Jean Drapeau in preparation for Expo '67.
Many parties are looking to change this reality, including Action-Gardien. But how to change it is where they differ.
A vacant lot in the Bridge-Bonaventure district
Savannah Stewart
A sustainable and community-oriented vision
The group has its own proposal for what to do with the sector, based on Pointe-Saint-Charles' identity as a historically working-class neighbourhood that has seen a boom in speculation and a subsequent steep increase in home and rental costs.
Created following community consultations in 2019, the proposal presents a vision for the sector that is sustainable and community oriented, with residential spaces and commercial/industrial spaces alike. It's a plan to develop the area in a way that meets the needs of current residents and that is in keeping with the neighbourhood's heritage. This is what they are fighting for.
"The proposal can evolve, it's not set in stone. But there are some aspects that we will refuse to change," says Bernier.
The non-negotiable aspects are that the site be developed on a human scale and optimized for community use, and that all housing in the sector be off-market housing.
The proposal calls for 1,000 social, cooperative and family housing units in buildings no more than six to eight storeys tall. The suggested location for this housing is on land owned by Canada Lands Company, a Crown corporation. It is the same land previously considered for the baseball stadium.
The notion of a project consisting entirely of off-market housing does not seem popular with the city.
Groupe Devimco, the developer expected to build the stadium before the MLB decision stopped it in its tracks, is the largest private landowner in Bridge-Bonaventure. The company had been buying up land in anticipation of the stadium project, and had released a plan of its own for the area. Though Devimco is now revising this plan, its previous plan indicates what might be included: 20-storey condo towers and office space to attract green technology companies from here and elsewhere.
Devimco declined an interview request for this article, citing the ongoing revisions.
"Density doesn't always have to mean height," says Triollet of the condo towers Devimco had in mind for the area. Housing is an obvious need, but condo towers are not how Action-Gardien thinks it should be tackled.
"We want off-market housing," says Dolan. "That doesn't mean it all has to be subsidized. It can still be varied, the same way the market is."
Off-market housing would address the housing crisis and the equally concerning renters' crisis, they believe. Different types exist and can provide the mixité sociale many want to see with residential development.
Some of the land owned by the Canada Lands Corporation in Bridge-Bonaventure
Savannah Stewart
A severe need for off-market housing
The city of Montreal is slated to release its vision for the area in 2024, following consultations at the Office de consultation publique de Montréal. In the meantime, this vision is being elaborated with a consultation group consisting of different parties with interests in Bridge-Bonaventure. An Action-Gardien representative is at that table, as is a representative of Devimco.
Until the final product is released, the different parties are doing what they can to swing the city's plan in their desired direction. This is why Action-Gardien and its member groups need to apply pressure to see the kind of development they want.
Some details have just been released of the city's vision for the sector, which will subsequently influence zoning changes. For now, it consists of about 3,800 housing units, 635 of which would be social, off-market housing. The housing would be built on the federal land in the Peel Basin.
But the notion of a project consisting entirely of off-market housing does not seem popular with the city. Sud-Ouest Mayor Benoit Dorais, who is also the municipal executive committee member responsible for housing, affirmed that mixed housing is Montreal's intention.
"Developing mixed housing is our priority. That is why we adopted the by-law for a mixed metropolis during the last mandate, in addition to our commitment to build 60,000 affordable housing units over the next 10 years, with the aim of preserving the diversity of our neighbourhoods and promoting access to adequate housing for all," explains a written response from his office.
"What politicians call 'affordable housing' isn't actually affordable. The average rent anywhere is becoming less and less affordable."
The mixed metropolis by-law states that developers of projects larger than about five units must sign an agreement with the city to contribute to social, affordable and family housing. Its aim is to have all projects of more than 50 units include 20 per cent social housing, 20 per cent affordable housing and 20 per cent family housing, but the rate changes slightly depending on the area or other agreements made with the developer.
Dolan says that the by-law is a start, but it doesn't go nearly far enough to address the severe need for off-market housing. And with 635 of 3,800 units slated to be social housing in the city's vision for Bridge-Bonaventure, that's just under 17 per cent, still short of the by-law's stipulation.
"And this is on federal land," Triollet points out. "The fact that the city doesn't want to go further than that to address the housing crisis is unacceptable."
Robert Beaudry, city councillor for Ville-Marie and Montreal's executive committee member responsible for urban planning, said that the city is developing its vision for the sector with the needs of current and future residents of the neighbourhood in mind.
He said that he believes there is a way to develop this much housing, both off-market and on the market, while still avoiding massive condo towers.
"A soft density is possible," he says. Although he could not go into further specifics about how that could be accomplished, he affirmed that the city does want to respect the community's desire for human-scale development.
Another 635 units would be affordable housing — truly affordable, Beaudry claims.
The train yards in Bridge-Bonaventure
Savannah Stewart
Fighting for housing 'they themselves will never live in'
But Dolan, Triollet, Bernier and others involved in mobilizing for housing issues are wary of the term "affordable housing," particularly when used by politicians.
Affordable housing must be slightly below the median market rent in Montreal. But in a housing crisis, even the median becomes unaffordable.
"What politicians call 'affordable housing' isn't actually affordable," says Dolan. "The average rent anywhere is becoming less and less affordable."
"We only look at the number of social housing units in a project," Triollet agrees. "Everything else is not off-market, so it won't do much to help."
For now, the promise of 635 affordable housing units, even if they were "truly" affordable, does nothing to assure the community activists that it will be enough to quell the crisis.
Dolan says that there is considerable interest in the future of the Bridge-Bonaventure sector among the people he works with in the area who are trying to secure housing.
"Even though housing takes time to be built, the people we're working with right now are still interested in knowing what will happen with future social housing projects," he remarks. "Even if it's about buildings that will be finished in years that they themselves will never live in."
Craig Sauvé, city councillor for Saint-Henri, Little Burgundy, Pointe-Saint-Charles and Griffintown, says that housing is the top concern among his constituents, and he hears a lot of support for social housing options. He agrees that the stadium project had raised considerable concern among residents.
"I think when the stadium was on the docket, there was a lot of legitimate nervousness, not only just about housing, but also about what that's going to actually do to the neighbourhood," he says.
"What I can say to reassure the population of Pointe-Saint-Charles (who were wary of the baseball stadium project moving forward) is that we heard them about the needs of the current residents, who do not have many services available to them in a close proximity," said Beaudry.
"We're going to make sure we have a mixité sociale, and we will develop on a human scale," he says.
Traffic to the Victoria Bridge
Savannah Stewart
Quebec must do more to solve housing crisis
While there is definitely interest in social housing among Montrealers and at least some willingness at the municipal level, Sauvé says that there is little that can be done without the province demonstrating real leadership in creating social housing.
"It's almost like they don't believe at all in public investment in housing, which is extremely sad given what renters are living with right now in Montreal," says Sauvé. "It's really the worst situation for social housing we've been in in decades, with zero interest. It's extremely frustrating."
It is an election year in the province, so the message that the Quebec government must do a lot more to address the housing crisis will be one tool in the toolbox for organizers seeking to raise awareness among Pointe-Saint-Charles residents about what's at stake with Bridge-Bonaventure.
The mobilizing that the Bridge-Bonaventure committee is preparing for is nothing new to longtime involved residents like Bernier.
"We're not reinventing the wheel," she says. "We just have to find ways to be seen."
Door-to-door, postering and virtual town hall meetings to keep the community up-to-date about the mobilization are all planned. Activism has long been strong in Pointe-Saint-Charles, and those same networks established for previous actions remain useful.
Bernier and Triollet were involved when protracted, large-scale community mobilization got a casino project in the Peel Basin cancelled in 2006. That massive struggle, a "David and Goliath" battle according to Triollet, proved that major victories can be won when Pointe-Saint-Charles residents mobilize.
"To this day, I'm still proud that we got half of the population of Pointe-Saint-Charles to sign a petition against the casino," says Triollet.
But this time, they are not so much fighting against something as they are fighting for something: for development that serves the local community, instead of development that prices it out.
While raising awareness among Pointe-Saint-Charles residents, the committee is also gearing up to lobby for the funding and political will to create the social housing that they want to see.
There is municipal, provincial and federal funding that can be obtained, so they plan to lobby all three. And, since the land they hope gets used for entirely off-market housing is federally owned, even more pressure will be put on the federal government.
"This isn't one step after another. It all happens at once," remarks Bernier.
There will be people who disagree, even in Pointe-Saint-Charles. "We're not trying to convince every single person," says Triollet. "We just want our voice to be heard."
With the arrival of spring, the time to ramp up their mobilizing is on its way. A recent virtual meeting open to all to discuss the upcoming campaign brought the community together to unite around a common goal — and served as a reminder that the community's strength is in the dedication of its people.
"At the virtual meeting, I saw quite a few people in attendance who were there for the fight against the casino," Triollet notes. "That really warms my heart."
The Peel Basin
Savannah Stewart
Major development plan for eastern Pointe-Saint-Charles leaves housing groups wary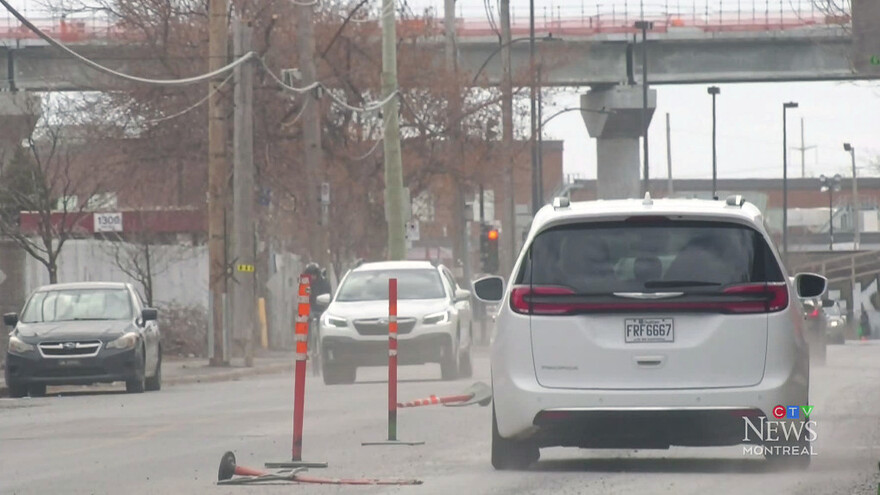 Matt Grillo
CTV News Montreal Videojournalist
Lillian Roy
CTVNewsMontreal.ca Digital Reporter
Updated March 28, 2022 1:53 p.m. EDT
Published March 27, 2022 3:08 p.m. EDT
MONTREAL
Montreal has major plans to develop an industrial area just south of downtown called the Bridge Bonaventure sector.
The city hopes families will soon call this eastern part of Pointe-Saint-Charles home.
"It's more a piece of charcoal [that is] going to be a diamond soon," said Robert Beaudry, city councillor and executive committee member.
While earlier ideas for the area involved a possible baseball stadium at the Peel Basin, newly unveiled plans could instead see close to 4,000 units built in the area. More than 1,200 of them would be social or affordable housing.
Beaudry says the number of jobs will increase threefold.
"We want to triple the number of jobs here [to] about 6,000. Jobs in clean tech, in culture industry, in [tourism]."
But housing and community groups fear developing the area could lead to higher rents.
"We have about more than 1,000 families that pay more than half of their income for their rent," said Francis Dolan of the Pointe-Saint-Charles housing committee, who says he's worried the project wont provide adequate social housing options to those who need it.
"There's an extremely important housing crisis in Montreal right now," said Karine Triollet of Action-Gardien, a local community development group.
Triollet worries about what will happen if the Peel Basin is sold to a large developer.
"It will have an effect not only in the Bridge Bonaventure sector, but in all of Pointe-Saint-Charles."
The city will present its vision to Montreal's public consultation office by the fall, with the hope of work getting underway in 2024.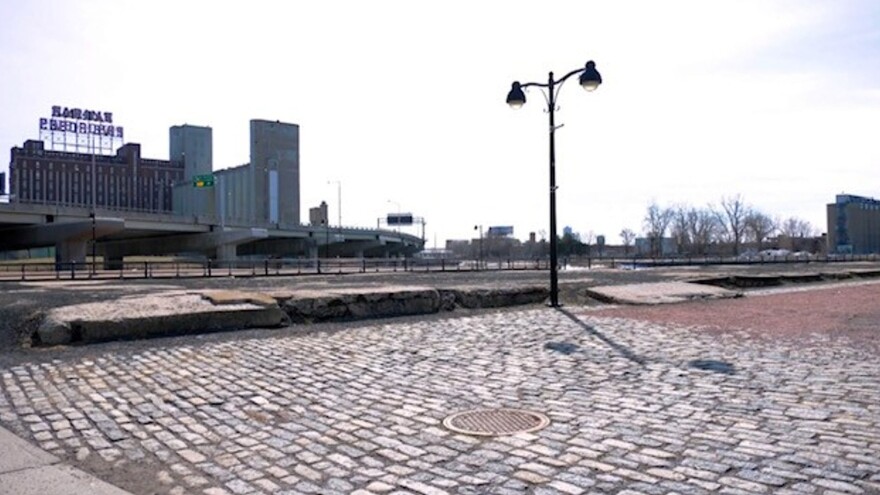 Honestly, seeing the activist nimby's side of things is hilarious. They want majority affordable housing/social housing and with 8 floor max, no businesses or anything. Of course some want mixed neighbourhoods and not only subsidised housing. However, It's ironic because
Their NIMBYism leads to a rise in housing prices due to lack of supply
8 floors over 20-30 floors means less density = less affordability and income for the city. It also means more housing units, less sprawl which means more supply = lower prices
There is a thing called state sponsored gentrification, whereby the building of social housing/affordable housing increases land value since it's brand new stock and a brand new building in the area.
They don't seem to want a tech hub nearby, which will bring more high income jobs downtown and boost their chances of getting a good job, while also helping the city become a global tech hub (which it is, but this will make it further). I'm glad Robert Beaudry wants to keep the 6K job threshold, but it's a far cry from the 2,000 companies in a cluster originally proposed.
Bottom line: Develop the hell out of this area, period. I'd argue this area should be zoned for 30-50 floors, heavily mix use and with PPP. There is huge demand in this area, considering it's
A) On the Island
B) Now part of downtown Montreal by the city/StatsCan standards
C) Close to transit
Flood the market, prices will shoot down along with the increased supply. I'm tired of the NIMBY/narrow minded culture this city has. Start building.
These groups don't wanna end poverty. They just want the poor to stay poor and live poor in peace. That's all they advocating for. After all if the poverty problem was solved, they wouldn't have anything else to talk about. And Projet Montreal presented itself as the only party that could « protect » from greedy developers Montrealers so they are entre le marteau et l'enclume. Good luck to them. But don't expect them to allow that kind of development. They just won't.
There's no point making caricatures of people. Most people obviously want to reduce poverty but a lot of people disagree on how. If they believe in artificially underpriced housing and you believe in flooding the market, neither is acting in bad faith. I obviously agree with the latter but neither ends up happening in exclusivity anyway. It'll just be a mix of everything, wrapped up in ugly as shit architecture a la Griffintown, about 80m
Flooding the market works in theory, it's just difficult to actually see it in practice because prices never "shoot down". I'm sure people aren't being 100% serious when they say "shoot down" but for people who are already sceptical of developers, housing prices galloping at 20% per year while there are massive condo skyscrapers under construction is not encouraging to them. If those buildings were not built maybe the prices would be rising 40% instead of 20, but either way to the average person in pointe-saint-charles, building the Burj Khalifa at Bassin Peel wouldn't have a single positive impact on their life. Unless they are passionate about cities, or density, which is where we come in ripping our hair out about nimbyism every time.
Je trouvais que 1000 logements étaient très peu pour les 2.3km2 du secteur alors j'ai lu le plan d'ensemble du collectif Ange-Gardien pour le secteur Bridge-Bonaventure. L'entièreté de la portion résidentielle suggérée est sur le terrain de la SIC au bassin Wellington qui totalise environ 8 hectares (0.08km2). Si je multiplie par la taille moyenne des ménages dans PSC, j'arrive à une densité de ~24,000 hab/km2, soit le double de la densité du Plateau ou de Griffintown. En contre partie, leur plan prévoit de réserver la quasi-totalité du territoire restant à un usage industriel, ce qui fait descendre la densité totale du secteur à ~830 habs/km2.
Ça m'amène à penser que les 3800 logements que la ville prévoit sont probablement pour l'ensemble du secteur, et non juste les terrains de la SIC. En assumant la même taille des ménages que pour le reste du quartier (très probablement moins), j'arrive à une densité de ~3,140 habs/km2.
Dans les deux cas, les densités prévues sont relativement faibles, entres autres parce qu'une portion considérable est dédiée aux activités industrielles du secteur et ne n'est pas propice à du résidentiel. J'aurais aimé avoir plus de détails sur la superficie totale zonée mixte ou résidentielle ou les cibles de population pour l'entièreté du secteur. Même le rapport de l'OCPM ne communique pas ces détails.
http://www.actiongardien.org/file/si691213/download/proposition_aménagement_Action-Gardien_2019.1-fi20019839.pdf
Devimco n'a pas pris de temps pour s'afficher dans le secteur Bridge-Wellington et sur le site de Ray-Mont. Ces pancartes ont poussé dans les derniers jours. La preuve, elles ne sont pas encore graffitées.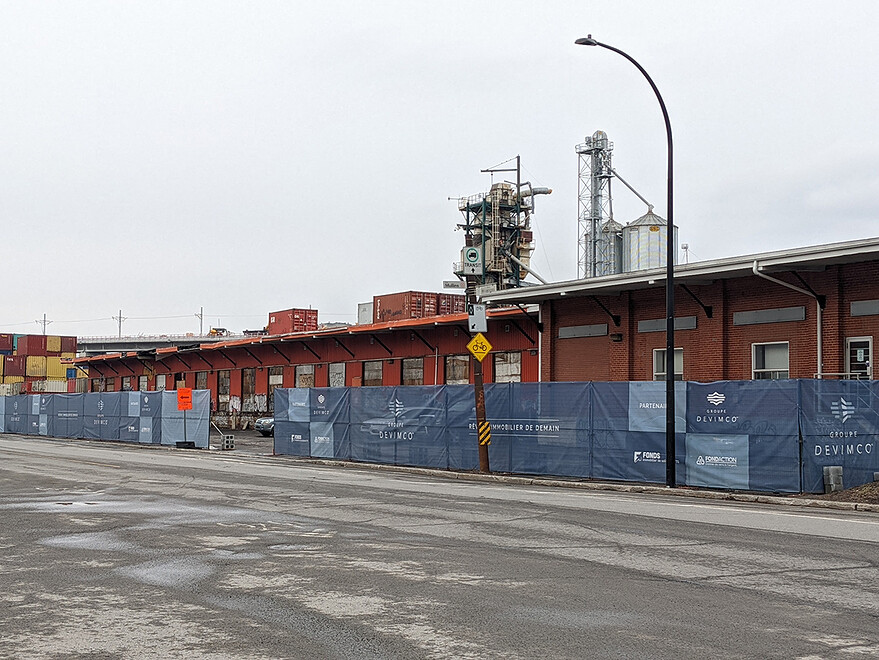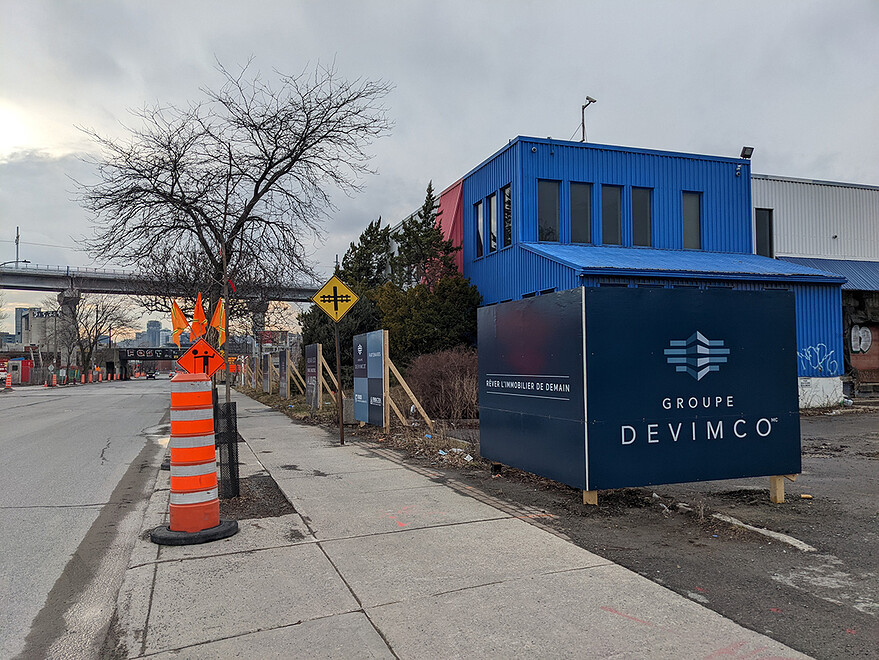 Une autre sortie de Serge Goulet…
Des promoteurs immobiliers se disent « bâillonnés » par Montréal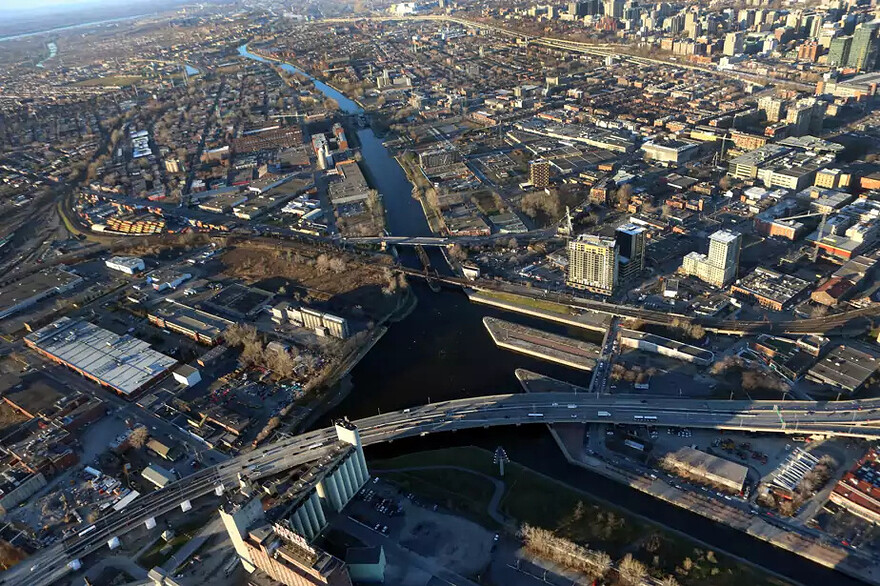 PHOTO MARTIN CHAMBERLAND, ARCHIVES LA PRESSE
L'administration Plante a fixé à 4000 le nombre d'unités qu'elle prévoit construire dans le secteur, dont 1270 logements sociaux et abordables ainsi que 320 logements familiaux.
Des promoteurs et groupes immobiliers tirent à boulets rouge sur l'administration Plante, qu'ils accusent de flagrant « manque d'écoute » et de dialogue dans le dossier du redéveloppement du secteur Bridge-Bonaventure. D'après trois grands joueurs de l'industrie, la Ville se dirige vers un projet carrément « sous-développé ».
Publié à 11h45
HENRI OUELLETTE-VÉZINA
LA PRESSE
« Leur vision propose seulement 17 unités d'habitation à l'hectare, ce qui est une sous-densification marquée lorsqu'on sait qu'on est face à une crise du logement. On pense que ce développement-là n'est socialement pas responsable compte tenu des enjeux auxquels on devrait faire face », affirme le président de la firme COPRIM Inc., Vianney Bélanger.
Accusant Montréal de « ghettoïser » le développement immobilier, les promoteurs – qui avaient convié les médias à un point de presse virtuel lundi – estiment plutôt pouvoir construire entre 12 000 et 15 000 logements dans le secteur. C'est au moins trois fois plus par rapport à la cible de l'administration Plante, qui a fixé à 4000 le nombre d'unités qu'elle prévoit construire il y a quelques semaines, dont 1270 logements sociaux et abordables ainsi que 320 logements familiaux.
La création de « nombreux espaces verts » est aussi au cœur de la vision préliminaire de la Ville, qui aimerait par ailleurs voir une station du REM dans le secteur. En octobre, pendant la campagne électorale, la mairesse Valérie Plante avait aussi promis de créer une promenade riveraine sur les berges du fleuve Saint-Laurent. Montréal propose donc de créer « 48 hectares de nouveaux espaces verts publics » et cinq kilomètres de berges, le long du fleuve et du canal de Lachine. Une douzaine de kilomètres de voies cyclables seraient aussi ajoutés de part et d'autre de la nouvelle promenade.
« Ça manque de réalisme »
Or, pour M. Bélanger, la vision de la Ville « provient du XXe siècle ». « Les changements climatiques, l'étalement urbain, la crise du logement, tout ça, c'est comme si c'est absent de ce débat. Et avec leur processus, on en a encore pour trois ans de consultation. Ça manque de réalisme, de responsabilités. S'il n'y a pas un changement d'attitude et une vraie consultation ouverte, franche, on s'en va vers un projet qu'on va tous pouvoir regretter », ajoute le promoteur.
Le vice-président au développement immobilier du groupe MACH, Cédric Constantin, affirme que cette attitude joue contre l'intérêt de la population. « Dans l'approche qu'on a proposée à la Ville, on a privilégié des immeubles de faible empreinte au sol de façon à dégager des espaces verts au sol. Malheureusement, la Ville – dans son idée de vouloir privilégier des activités économiques – vient proposer des immeubles avec très peu d'empreintes au sol, et donc, très peu d'espaces verts », illustre-t-il.
Pour lui, la Ville agit carrément « comme une dictature » en refusant d'écouter les revendications de l'industrie. « On nous impose une vision alors que nous, les développeurs qui prenons le risque sur ces projets-là, avons finalement très peu d'écoute », dit encore M. Constantin.
Une invitation au public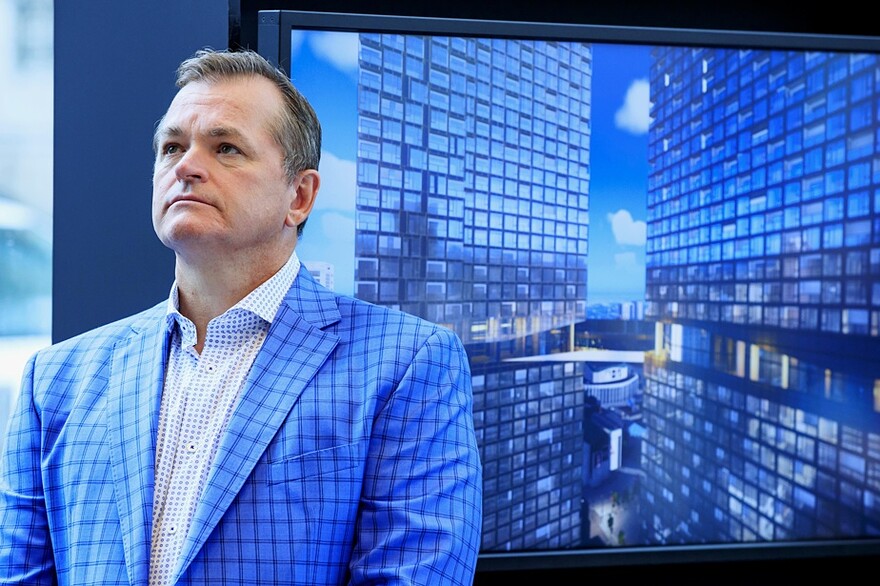 PHOTO ALAIN ROBERGE, ARCHIVES LA PRESSE
Serge Goulet
À ses côtés, le président de la société Devimco, Serge Goulet, a laissé entendre que la Ville est « en train d'instrumentaliser des activités de consultation » pour cautionner « sa vision ». « On est en train de se passer de ressources et de compétences dont Montréal aurait besoin. Le privé n'est pas à la table », déplore-t-il.
« Ça fait trois ans qu'on essaie de se faire entendre. On a dû forcer la porte pour que la table de concertation accepte l'Institut de développement urbain (IDU) avec des développeurs privés », rajoute Serge Goulet, pour qui les démarches de consultation sont « improvisées » et « manquent de transparence ». Il réclame un « débat de fond » sur la manière qu'à la Ville de travailler avec le privé.
Son groupe convie ainsi le public montréalais à une grande journée « portes ouvertes » prévue le 31 mai prochain, dont les détails seront révélés au cours des prochains jours. « On veut que toute la population ait l'occasion de voir notre vision à nous, notre façon de rendre ce projet-là responsable économiquement, socialement et du point de vue environnemental. On va vous montrer ce que sont nos compétences, notre vision et nos ressources », affirme M. Goulet.
« Est-ce que les citoyens sont d'accord à payer de leurs taxes un projet sous-développé, alors qu'un projet responsable et bien financé s'autofinancerait ? Moi, ça m'intéresse de poser cette question-là, mais présentement, avec la plateforme qu'on nous donne, on n'est pas capable. On est bâillonnés », conclut-il.
Joint par La Presse, le cabinet de Valérie Plante n'a pas immédiatement commenté la sortie des promoteurs immobiliers, lundi.
À regarder comment y'ont développer Griffintown Quand la ville leur imposait rien, je me garderai une petite Gêne…
Mais je pense quand qu'il y a une vérité dans tout ça!