De ce que je comprends, Cherrier est la partie manquante entre le REV Saint-Denis et la piste de la rue Berri
They're doing it wow! Hopefully though they'll separate the east/west to each side of Cherrier and don't do it exactly like my sketch
Je pense que c'est ce qu'ils vont faire, surtout s'ils ont déjà commencé les travaux au sud. Sinon, les cyclistes tentant de rejoindre Saint-Denis à partir de l'est auraient à traverser l'intersection Berri—Cherrier en deux temps pour retraverser Cherrier une rue plus tard. Pareil pour ceux se dirigeant vers l'est à partir de Saint-Denis.
Montréal tiendra un sommet sur les chantiers en 2023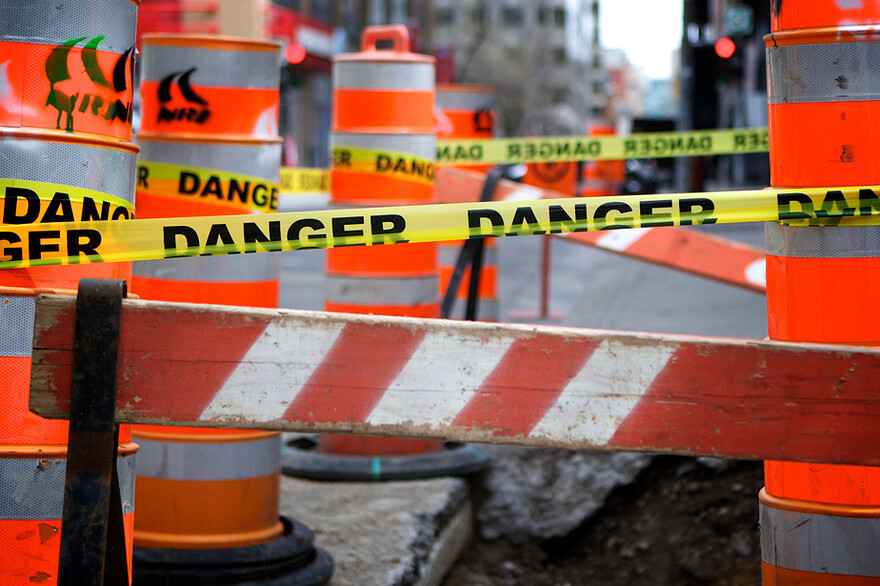 PHOTO SARAH MONGEAU-BIRKETT, ARCHIVES LA PRESSE
Projet Montréal s'était engagé à tenir un tel sommet dans les six premiers mois d'un deuxième mandat, qui a débuté en novembre 2021. La semaine dernière, l'opposition avait durement critiqué cette omission.
Montréal tiendra l'an prochain un grand sommet sur les chantiers routiers afin de trouver des solutions à l'omniprésence des cônes orange dans la métropole, a annoncé mardi l'administration Plante.
Publié à 12h59
Philippe Teisceira-Lessard
LA PRESSE
L'évènement réunira la ville-centre et les arrondissements, mais aussi les grands donneurs d'ouvrage publics et privés.
« On sort de la COVID, on voit les chantiers qui reprennent, donc en 2023, on va pouvoir tenir ce sommet sur les chantiers », a expliqué Émilie Thuillier, responsable des infrastructures au sein du comité exécutif de Valérie Plante. « À Montréal, seulement 30 % des travaux dans nos rues sont faits par la Ville et ses arrondissements. Et donc, 70 % qui sont d'autres donneurs d'ouvrage. »
Mme Thuillier a assuré que la Ville de Montréal faisait déjà tout en son pouvoir pour coordonner les chantiers au meilleur de sa capacité. « Est-ce que c'est facile à gérer ? Non ! Parce qu'on est tributaires des changements, des échéances des autres grands donneurs d'ouvrages. »
Projet Montréal s'était engagé à tenir un tel sommet dans les six premiers mois d'un deuxième mandat, qui a débuté en novembre 2021. La semaine dernière, l'opposition avait durement critiqué cette omission.
On Info-Travaux I see there's going to be asphaltage done on Sainte-Catherine Ouest between du Fort and Guy. I'm just curious why they're choosing this section of the street, that doesn't seem to have that much damage besides a few cracks, while it's going to be redone with pavers in a couple years anyway?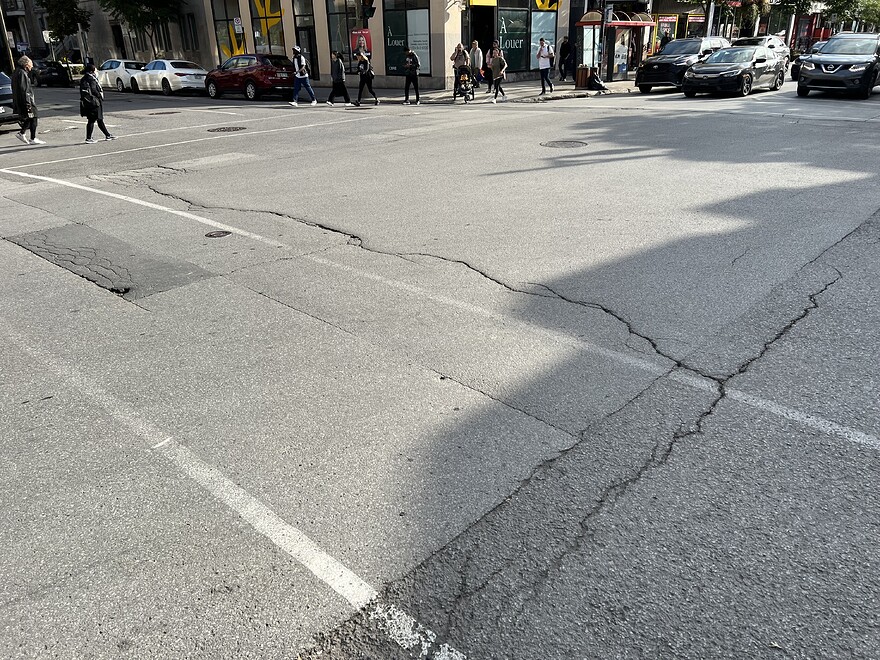 To compare, here's Sherbrooke and Jeanne-Mance, a section I feel REALLY needs to be redone because of the heavy traffic and potholes: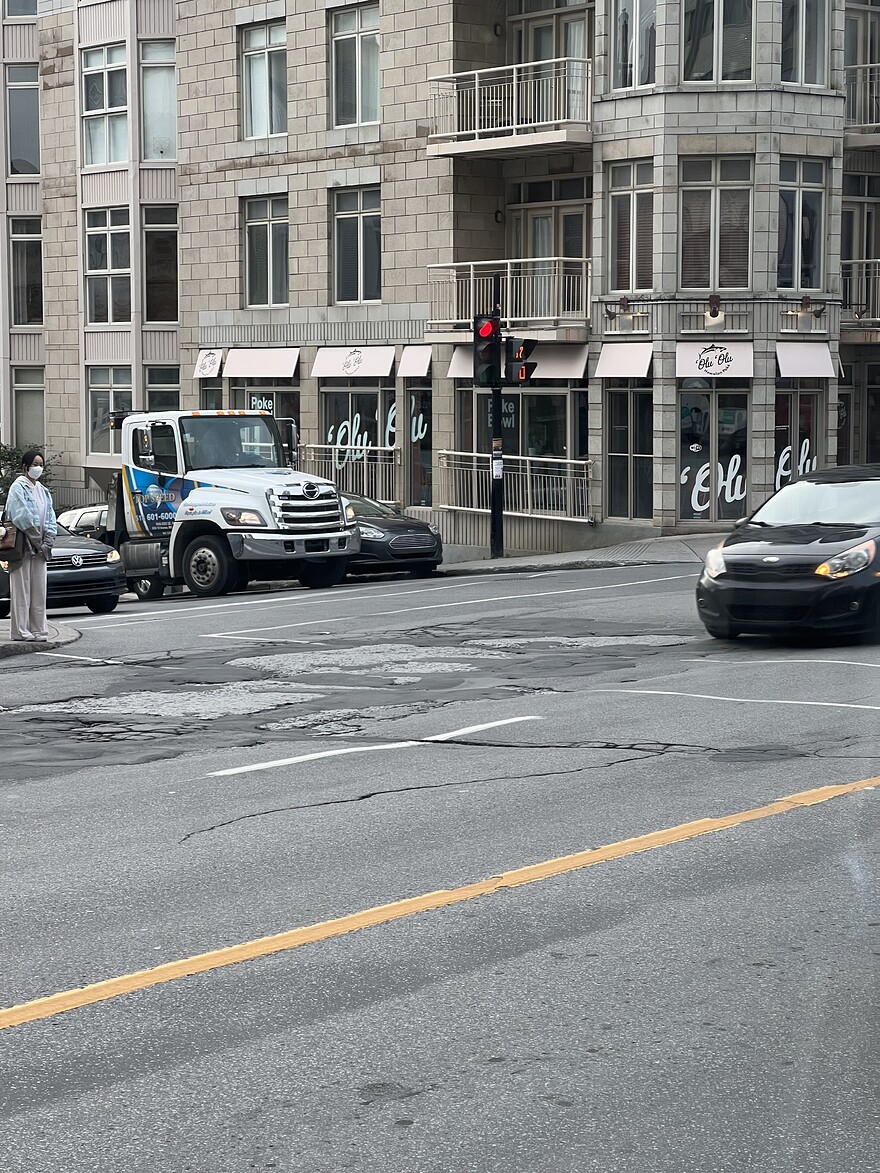 Im not sure, but I think Sherbrooke is under the MTQ's jurisdiction (Qc 138).
In search of constructive solutions to Montreal's construction crisis
Montrealers love to complain about construction gridlock — and we have every reason to. Will an upcoming summit on corralling the chaos of the orange cones yield results?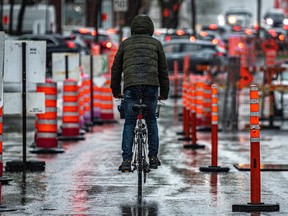 COVID-19 hit pause on many construction sites — or at least reduced the frequency with which many Montrealers had to navigate them — but the orange cones are back with a vengeance. PHOTO BY DAVE SIDAWAY /Montreal Gazette files
The orange construction cone long ago became the unofficial emblem of Montreal.
You'll find it on everything from keychains to throw pillows sold in souvenir shops. Montrealers even dress up as the ubiquitous orange and white striped pylons for Halloween.
Hilarious, sure. But the inevitable clusters of neon-coloured cylinders that sprout like mushrooms across the city as soon as the snow melts are a headache only dry humour can alleviate.
Most Montrealers have surely been stuck or stymied by the seemingly contradictory directions on detours. Whether you're a motorist, a cyclist or a pedestrian, barricades restricting traffic to "circulation locale" turn through streets into dead ends without warning. Cars, bikes and buses are forced to slalom around craters and skirt heavy equipment on narrowed roads. It's not unusual to cross the street to avoid a trottoir that's barré only to find the opposing sidewalk is just as impassable.
Gridlock is more than an annoyance. A 2017 study by the CAA found Montrealers lost three million hours a year in traffic at a cost of $75 million in lost productivity and wasted fuel. Those figures predate the pandemic, mind you, but they go a long way in explaining why so many Montrealers have embraced remote work.
If COVID-19 hit pause on many construction sites — or at least reduced the frequency with which many Montrealers had to navigate them — the cones are back with a vengeance, proliferating on highways, downtown thoroughfares and residential streets alike.
When she first ran for the top job at city hall, Montreal Mayor Valérie Plante made a bold pledge to corral some of the chaos on city streets. During her first mandate, she dispatched her mobility squads to try to dislodge double-parked vehicles that cause gridlock during rush hour and to better co-ordinate construction projects. But lo and behold, the problem proved as intractable as potholes and icy sidewalks, two other perennial thorns in Montrealers' sides.
Prior to her run for a second mandate last year, the public was so fed up with the endless detours and road closures that Plante felt compelled to postpone some scheduled work to give people a break. But she was also forced to admit that the city only controls about a third of the construction activity that goes on in Montreal, so there was only so much she could do.
The rest is handled by everyone from the Transport Ministry to the Caisse de dépôt et placement du Québec (which is building the new REM electric train line) to Hydro-Québec to Bell Canada to the Commission des services éléctriques de Montréal to Énergir to myriad private developers erecting all the condo towers around town — not to mention 19 boroughs and 13 other municipalities on the island of Montreal that also award their own contracts.
An array of apps appears incapable of keeping track of it all. And two municipal departments mandated to better organize the work — the Assistance à la gestion des interventions dans la rue (AGIR) division and the Équipe de coordination opérationnelle (COP) — fail to communicate effectively enough to put a dent in the blockages, according to the city's auditor general.
Complaining about the chaos they unleash is a popular pastime among Montrealers — and rightly so. But could convening the major players to talk about the issue finally lead to constructive solutions?
Plante's Projet Montréal party committed to organizing such a gathering during last year's municipal election campaign. With the Ensemble Montréal opposition on the mobility mayor's case to keep her promises of late, Émilie Thuillier, the executive committee member responsible for infrastructure, finally announced a summit will indeed be held next year to discuss taming Montreal's mean streets.
Other cities seem to manage roadwork and major infrastructure projects without being transformed into mazes, so there must be best practices Montreal can learn from. Even if one obvious fix is more people using public transit and leaving their cars at home, perhaps Montrealers need incentives or reminders. At the very least, wringing a pledge for more co-operation out of participants might set the stage for more coherent co-ordination of projects.
But part of the problem is that Montreal has such an infrastructure maintenance backlog, the work that needs to be done will never end. The city alone has $9 billion worth of construction on its books between now and 2030, never mind what the province does.
Montrealers have demanded more accountability from the city and the Transport Ministry after years of hellish bottlenecks, but the private entities that cause a large portion of the mess don't have to face the electorate every few years. Little will change unless they, too, can be made to assume their share of the responsibility for keeping the vehicle and foot traffic flowing in Montreal.
Too many times, streets have been torn up for one purpose only to be ripped open again for another. One project ends only to have a new seriously disruptive one begin. Developments are green-lit for both sides of major thoroughfares. Even after major infrastructure like the Turcot Interchange is "completed," the cones return for maintenance of "corrective" work. And in some mind-boggling cases, projects have to be redone, like a section of Highway 40 that was so shoddily repaved just last summer, the contractor was ordered to fix it this year.
Even if the summit does manage to make the city less labyrinthine, the orange cone is unlikely to be replaced as Montreal's de facto symbol any time soon.
Si je ne me permettre un exemple, tous les axes cyclables de Centre-Sud sont maintenant coupés à la hauteur de Papineau. Un chantier de construction sur la piste René-Lévesque redirige vers de Maisonneuve où un nouveau chantier de la CESM force un détour vers Lafontaine, où un autre chantier bloque tout simplement l'accès. On est donc forcés de remonter jusqu'à Ontario et slalomer entre les milliers d'automobilistes qui s'amassent pour essayer de rejoindre le pont Jacques-Cartier.
L'impact sur le réseau bus est franchement catastrophique. Au cours des 6 derniers mois, je n'ai pris aucun bus qui n'était pas affecté par un chantier de construction ou un détour quelconque. Jusqu'à présent je compte les lignes:
10
11
14
15
16
24 le trafic à l'est de Atateken est complètement dément. Ça prend plus de 10 min pour faire deux blocs en après-midi
29
34
35
41
45
55
80/480 - la voie réservée au sud de Sherbrooke est occupée depuis plus de 5 ans
92
93
97
121
125
139/439
141
144
150
193
To go with what you said, here's a tweet criticizing that problem at Papineau too:
Entre Christophe-Colomb et Papineau, la 121 est déroutée vers Louvain. Je n'ai pas vu ce que ça donnait du côté des voies réservées.
Tu peux maintenant rajouter la 136 et la 188 qui sont déviés à cause des travaux de la ligne bleue.
Dix-neuf premières fosses d'arbres drainantes dans Rosemont–La Petite-Patrie
Publié le 26 septembre 2022 à 16 h 15
Mis à jour le 26 septembre 2022 à 16 h 30
*Relié à Rosemont–La Petite-Patrie
Cet automne, pour augmenter le couvert végétal et réutiliser l'eau de pluie à son maximum, l'Arrondissement aménage 19 fosses d'arbres élargies permettant de capter les eaux de ruissellement sur la rue Bélanger. Découvrez les détails de ce projet innovant.
Durant le mois d'octobre, de l'avenue De Lorimier à la 13e Avenue, le béton fera place à plus d'espaces pour accueillir plantations et verdure sur la rue Bélanger : des interventions en phase avec le Plan d'action en transition écologique et le Plan directeur de biodiversité de Rosemont–La Petite-Patrie.
Qu'est-ce qu'une fosse d'arbre drainante?
Ces fosses d'arbres larges et profondes, en partie aménagées sous le trottoir, recueillent l'eau lors de fortes précipitations. Comment? Notamment grâce à leur dimension et à la présence d'une bordure abaissée dans leur contour, où l'eau peut entrer durant les averses abondantes. Ce dernier dispositif est aussi présent dans les saillies drainantes du quartier.
Redirigée dans la fosse, l'eau est revalorisée au lieu de se retrouver dans le réseau d'égouts. Un plus pour les arbres et plantes qui s'y retrouvent et une économie d'utilisation non négligeable à long terme pour les infrastructures souterraines du quartier.
Où seront aménagées les fosses d'arbres drainantes à l'automne 2022?
rue Bélanger, entre De Lorimier et des Érables (2)
rue Bélanger, entre des Érables et Sagard (2)
rue Bélanger, entre Sagard et Louis-Hémon (2)
rue Bélanger, entre des Écores et Louis-Hébert (1)
rue Bélanger, entre Molson et la 1re Avenue (1)
rue Bélanger, entre la 1re Avenue et la 2e Avenue (2)
rue Bélanger, entre la 2e Avenue et la 6e Avenue (1)
rue Bélanger, entre la 9e Avenue et la 10e Avenue (4)
rue Bélanger, entre Saint-Michel et la 12e Avenue (2)
rue Bélanger, entre la 12e Avenue et la 13e Avenue (2)
Les plantations d'arbres, quant à elles, seront effectuées par nos équipes dans un deuxième temps.
La Ville a une carte interactive de la Vision Zéro, on y retrouve une carte des collisions depuis 2014, mais aussi les aménagements pour sécuriser les déplacements
Cette carte fait partie de l'objectif 9.2 du Plan d'action de la vision zéro 2022-2024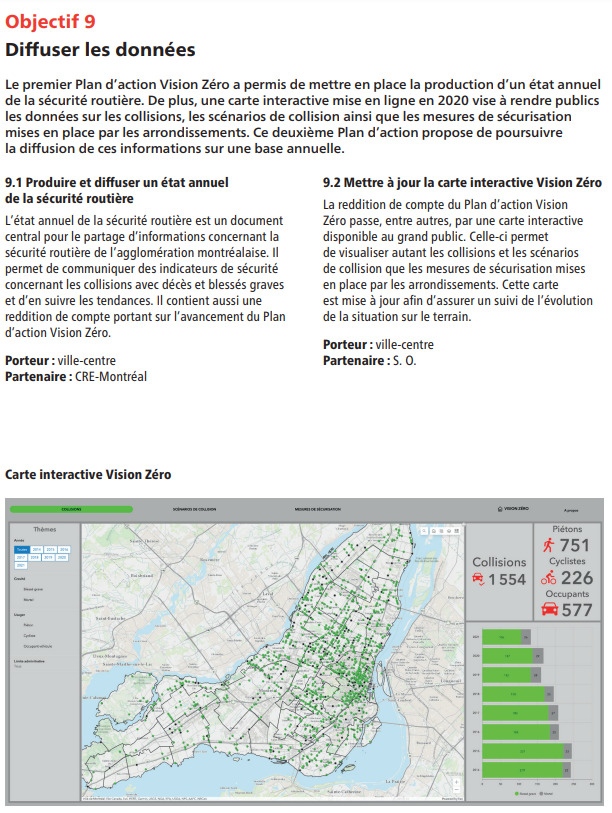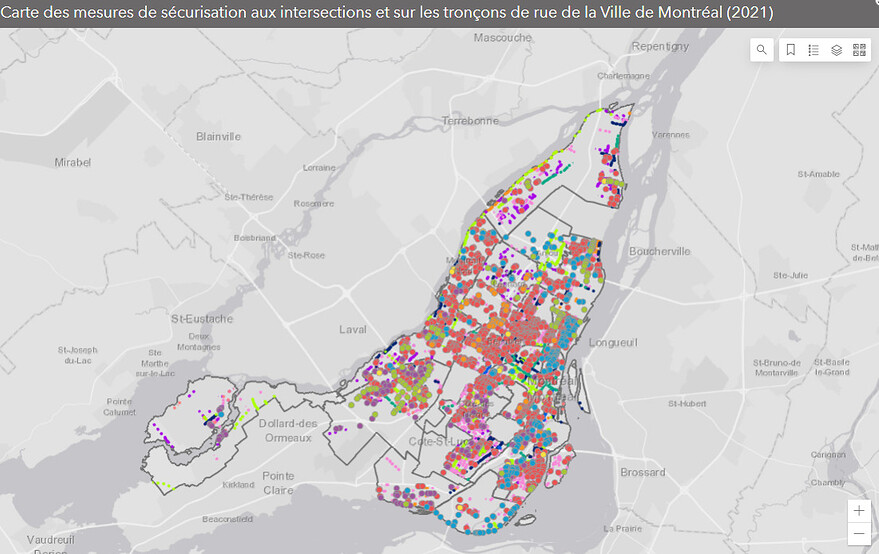 Des nouvelles fosses d'arbres sur la rue Bélanger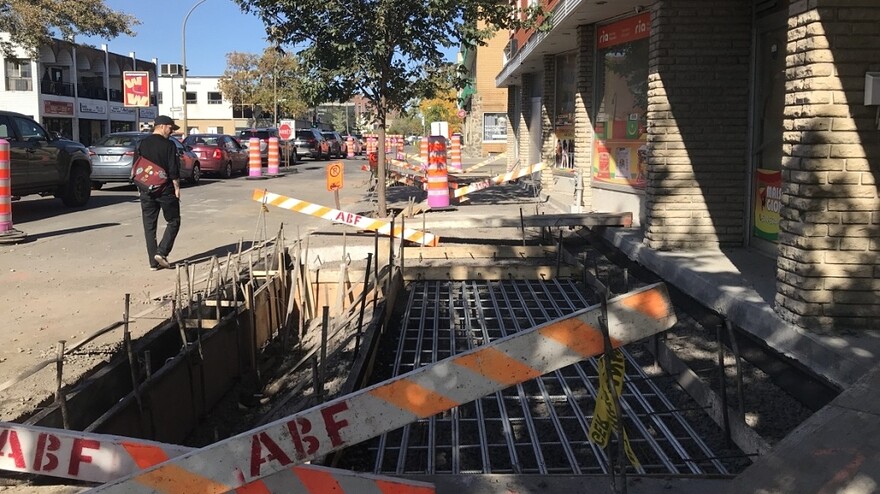 Les travaux sur la rue Bélanger, à l'intersection de la au coin 2e Avenue | Photo: Alexis Drapeau-Bordage, Métro Média
Journal Métro | ROSEMONT–LA PETITE-PATRIE | Alexis Drapeau-Bordage | 30 septembre 2022 à 13h46
La rue Bélanger recevra 19 fosses d'arbres drainantes et verra ses trottoirs reconstruits à la suite d'une décision prise le 6 septembre par l'Arrondissement de Rosemont–La Petite-Patrie. Les travaux s'étendront sur 1,3 km, entre les rues de Lorimier et la 13e Avenue, et devraient se terminer en octobre.
Les fosses drainantes ont pour objectif de recueillir les excès d'eau dans la rue lors des fortes averses afin de la réutiliser pour les arbres plutôt que de procéder par arrosage. Le projet s'inscrit dans le Plan directeur de biodiversité et le Plan d'action en transition écologique adoptés par l'Arrondissement.
Le projet a été confié au Groupe ABF, dans un contrat de 316 800$, soit un budget inférieur aux premières estimations de l'Arrondissement.