I kind of wish Rue Dalhousie was pedestrianized and be part of the park, so that it can be more well integrated into the station, having a public space without a road in middle.
My colleague and I are lobbying for it! Dalhousie has been closed to traffic for the construction of the retension basin under the future park and then for the REM, and it doesn't affect the flow of cars in the area.
When Dalhousie street was open, it was mainly used to store private cars, especially when the direction was changed so the people attending events at the New City Gas would leave the residential faster
Y avait-il une justification technique pour omettre une entrée du côté de Robert-Bourassa? Il me semble que ça aurait été avantageux, non?
Y avait-il une justification technique pour omettre une entrée du côté de Robert-Bourassa? Il me semble que ça aurait été avantageux, non
Cita
Les rails du Rem sont du coté ouest du viaduc. Du coté Robert Bourassa il y a les rails de via rail ,amtrak et le train de banlieue.
L'emplacement des rails ne devrait pas avoir d'incidence sur la présence des entrées. Les 2 éléments ne sont pas au même niveau.
Dalhousie, William et R-B devraient avoir des entrées. Surtout que c'est une structure vide de commerce.
Il me semble que Dépotium a encore un contrat pour cet espace pour quelques années. Avec cela de dit, j'aimerais vraiment voir les panneaux de béton retiré des deux bords pour ouvrir la structure et créer des espaces commerciaux dès que le contrat de Dépotium est fini. Une partie du niveau supérieur est occupé par de la tuyauterie pour alimenter les immeubles du centre-ville en vapeur, mais la vaste majorité de l'étage inférieur devrait être utilisable. Ça pourrait devenir un espace vraiment vivant.
L'intérieur du bâtiment-pont ferroviaire est à aire ouverte. À part pour les colonnes de soutien, il n'y a pas de murs intérieurs de soutien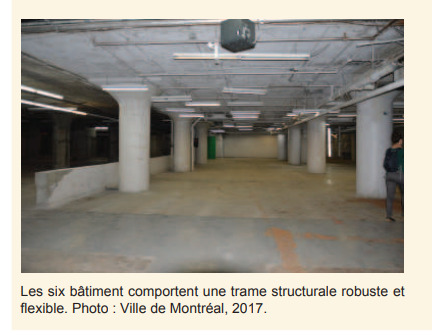 Donc, rien n'empêche d'avoir une entrée du côté de Robert-Bourassa. Surtout que l'escalier menant au quai en direction Gare centrale sera à l'intérieur du bâtiment pont
Ça doit être une question de coûts d'installer une entrée universellement accessible. Il faudrait qu'elle s'intègre au mur côté Est. En plus de l'énoncé d'intérêt patrimonial, le bâtiment-pont est un témoin architectural significatif… Les modifications ne peuvent pas être faites n'importent comment.
Tous les baux des espaces du bâtiment-pont ont été résiliés avec l'adoption de la Loi sur le REM. C'est l'article 86
Dépotium a p-ê signé un nouveau bail qui peut être résilié dès le début des travaux intérieurs de la station.
NouvLR occupait un des espaces comme bureau de chantier. Il me semble que c'était le B3 que MR-63 a loué pour un événement

The interior spaces under the vaults really really really could be better utilized to bring more life to what is essentially the spinal cord of the neighbourhood building up in eastern Griffintown and western Multimédia. Vaulted railway viaducts in Asia, Europe, and the UK are filled with restaurants, shops, and cafés. Wouldn't that be a wonderful thing here?
Anyways if they (CPDQi) can pull this off (GBL station).it will e great. But I am still sceptical that it will.be done on time.
They haven't given themselves a new timeline, just after the Deux-Montagnes section is finished (it's managed by the same person). I think it's good they aren't giving a timeline so that people don't have expectations of when it's supposed to be completed
I think that the CDPQinfra should start a call for tenders soon so that the shops could open at the same time as the station
Meanwhile, there are some talks between the CDPQInfra and a group of people in Griffintown to use the space temporarily
And in turn, shops in that building will help breath more life into the park and the whole neighborhood
Exactly. Right now, it's a physical and psychological barrier between Gtown and Multimédia.