C'est la place publique qu'on voit dans la première photo?
Photo des travaux de cette station, partagée sur le site de NouvLR:
Station Ville-de-Mont-Royal - Hiver 2022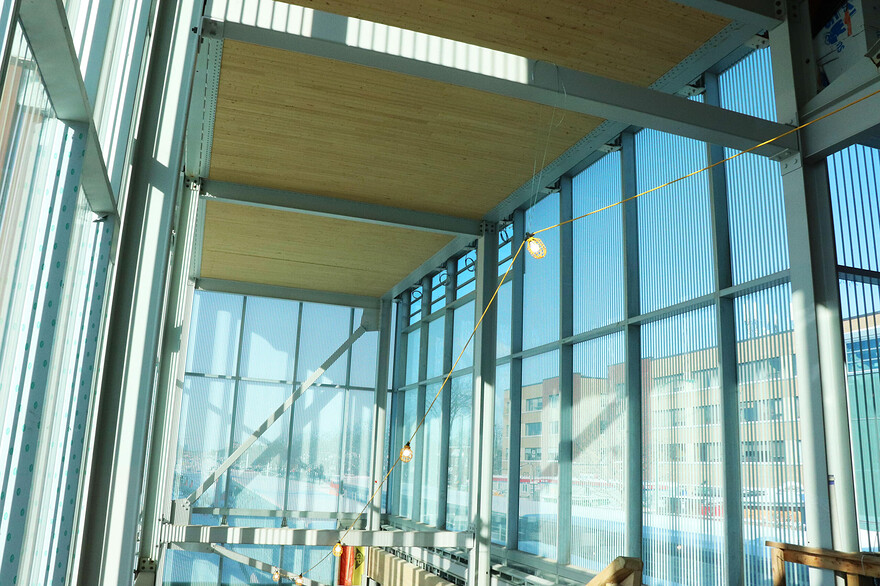 Nouvelles photos des travaux de la station, partagées sur le site du REM:
Station Ville-de-Mont-Royal - Janvier 2022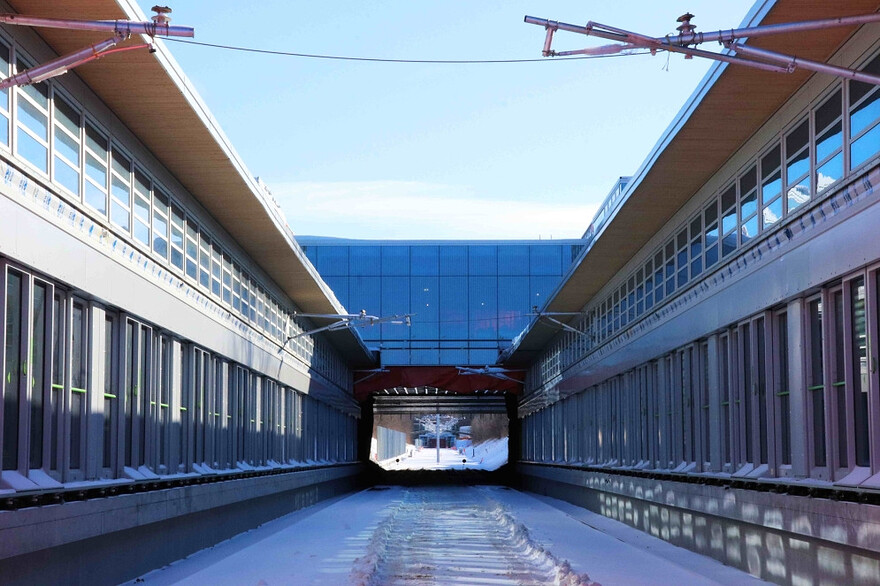 Portes-palières de la station Ville-de-Mont-Royal - Avril 2022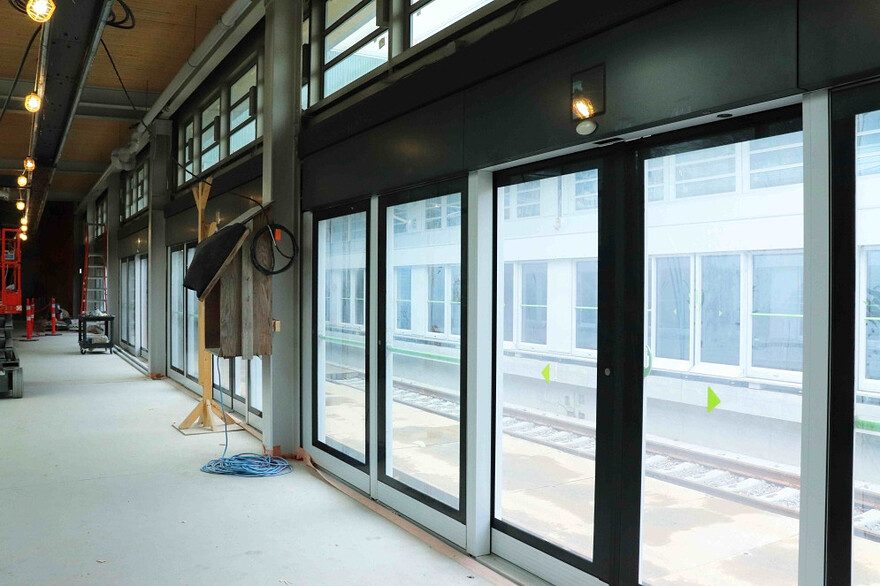 Still not sure why no roof over the tracks at all these stations. Look at the snow accumulating in front of the platform screen doors.
indeed. and they can't push heavy snow to the side or it will explode the glass doors which would be very costly and disrupting. They'll have to take the snow away, or push it 80 metres in front, after the platform ends?
"Heavy snow accumulation? On my high frequency line? It' more likely than you think." FREE PC CHECK
Bien que l'on s'éloigne un peu du sujet du fil actuel…, je ne suis pas trop inquiet par cette accumulation de neige devant les portes-palières apparaissant sur cette photo. Tout simplement par le fait que le REM n'y était pas encore en opération.
---
Pour rappel:
Le REM est-il prévu pour l'hiver?

Les conditions météo représentent un défi important auquel doit faire face un opérateur de train ou de métro léger. Dans le cadre du plan hivernal du REM, des équipements spécialisés seront employés pour l'entretien de la voie et une équipe sera dédiée sur le terrain aux bonnes opérations du système.

La haute fréquence du REM (qui varie de 2,5 à 15 minutes) permettra aussi de garder un œil en tout temps sur les opérations afin d'identifier rapidement les problématiques. Les passages réguliers pourront aider à restreindre l'accumulation de neige ou de glace, comme sur une autoroute. Dans des cas exceptionnels, il sera aussi possible de laisser le REM en opération toute la nuit, pour éviter les accumulations sur la voie et la caténaire.
https://rem.info/fr/faq/metro-leger-le-rem-est-il-prevu-pour-lhiver
2. Les tests des portes palières

Pour le deuxième hiver consécutif, nous procédons aux tests d'endurance des portes palières. Plus de 500 000 cycles d'ouverture et de fermeture des portes ont été effectués à Montréal et confirment le bon comportement par grand froid, verglas et neige. Ces infrastructures ont également été testées en chambre climatique, où la température descendait à -40°C avec plus de 30 millimètres de verglas.
Ça disais chantier, Accès interdit sauf pour les membres Agora Niveau 3​:joy:
15h04
15-06-2022
News in brief from The Suburban
Mayor Peter Malouf told the council meeting that "the REM construction site, with its major obstacles and impacts on our downtown area, is coming to an end. Only partial obstructions, related in particular to work inside the new station, are to be expected and, consequently, will have less impact on the daily lives of our residents. The problems encountered in the tunnel have no impact on the work still to be done on our territory, except that the new trains will not be running for a while. I would also like to mention that an official request was sent to the STM for the reactivation of the temporary shuttle to compensate for the late opening of the REM network. No response to this request has been received to date. Paving work on the east side of the Cornwall Bridge is coming soon and will result in the complete closure of this bridge for approximately two days. During this period, the bridge at the intersection of Laird and Graham boulevards will revert to two-way traffic as it was during the work last year. This work is one of the final steps in completing the work of the REM in our municipality. Please also note that the Hydro-Quebec pole located at the intersection of Cornwall Avenue and Canora Road was moved last Friday, thus increasing the safety of this pedestrian crossing."
Photo des travaux de la station, partagée sur le site du REM:
Vue aérienne de la station Ville-de-Mont-Royal | mai 2022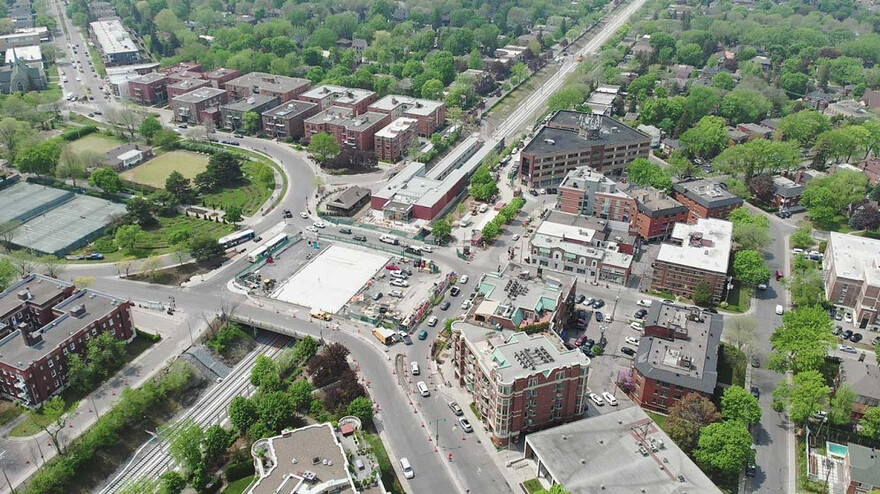 Via les médias sociaux du REM:
Réseau express métropolitain - REM

Survol du réseau | Les chantiers ont beaucoup progressé depuis les deux dernières années. Voyez l'avancement du réseau à vol d'oiseau!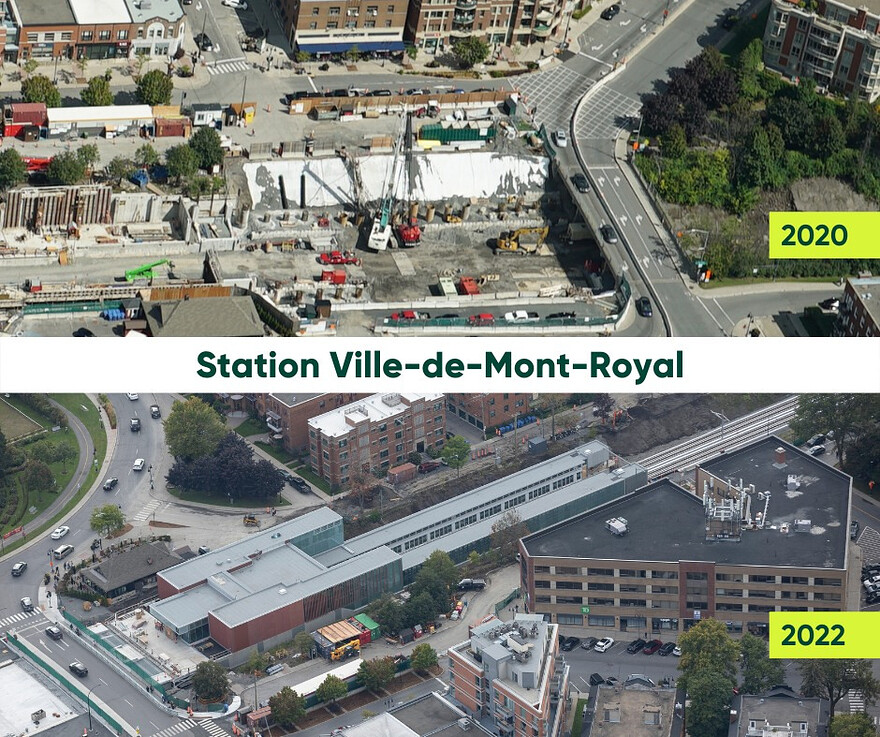 22-11-2022

Le chemin Dunkirk est finalement dégagé pour la circulation automobile, près du restaurant Pizzaiolle
La place publique, située entre les ponts Cornwall et Laird, est prête à être aménagée par VMR… l'an prochain (!?)