Donc on a remplacer les escaliers roulants, mais personne a cru bon de réparer le plafond et d'enlever la tôle verte ? On a patcher une partie de la voute, mais on aurait pu la power wash et nettoyer le gros spot sur la passerelle…
I thought they would remove the depanneur that's downstairs… oh well .
Why would they? It's nice to have a place in the metro station to buy some snacks
Avant le nouvel edicule, c'était vraiment étroit au niveau des barrières. S'il faisait beau et beaucoup de gens sortaient se promener sur l'avenue mont royal, la queue pour les billets montait parfois les escaliers. Mais maintenant, avec le nouvel édicule, la foule est partagée entre les deux. Avant, je peux comprendre vouloir enlever le dépanneur.
Déniché sur YT:
New elevators + new entrance at the Mont-Royal Metro Station. November, 2022

Sky Of The Universe
21 nov. 2022

Finally, here is my video of the new elevators and new entrance at Mont-Royal Metro Station on the Orange Line of the Montréal Métro. The elevators of Mont-Royal Metro Station opened in July, 2022 but I finally got around to filming them now.

The station became the 20th métro station accessible by elevators. In my last video, I posted a video of the Villa-Maria Metro Station elevators, which officially opened the past week.

This video was filmed on Sunday, November 20, 2022.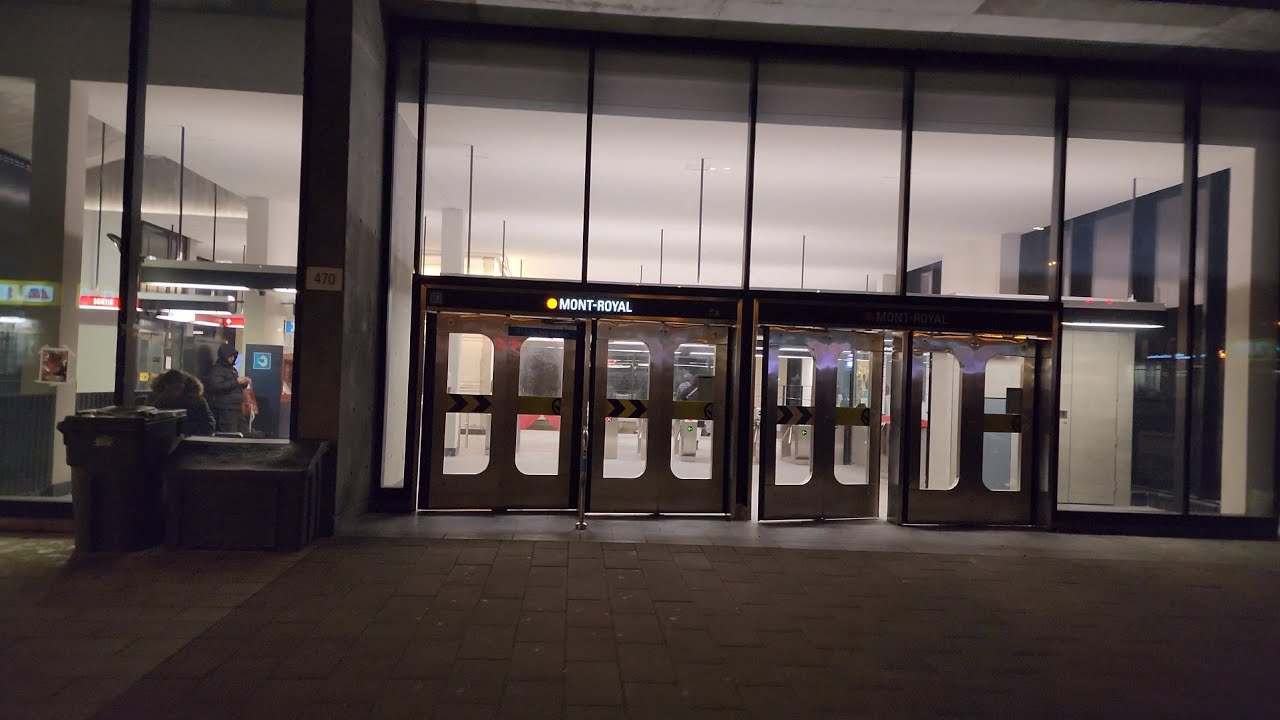 Wow! Je suis impressionné par les changements! Je n'ai pas eu l'occasion d'entrer dans le nouvel édicule.
J'ai vécu 10 ans autour de la station Mont-Royal, trop petite pour son achalandage. C'est toute une amélioration!
Are there plans to make that small section of Berri pedestrianized and expand the square slightly?
It does look like the square will extend a bit to the east. Not sure about Berri though if it'll be pedestrian only, or just a more narrow version of its former self.
Je suis ravi que Berri ne sera plus ouverte à la circulation automobile. Cela permet d'agrandir la place devant le métro Mont-Royal et lui donner plus d'envergure. Et afin de lui en donner davantage d'envergure, il serait bien qu'elle puisse être jointe aux espaces vacants autour de l'immeuble du Sanctuaire, autant à l'est, qu'à l'ouest et qu'au sud afin de rejoindre la rue Saint-Hubert. Tout cela en espace piétonnier. Et il y a aussi de l'espace pour densifier un peu dans ce quadrilatère, notamment du côté de la rue Berri.
Je veux prendre une commande d'insigne pour chez nous!!!
Dans le prochain CA du Plateau, on confirme la fermeture de la rue Rivard jusqu'à l'aménagement final de la place publique autour de l'édicule, à laquelle la rue sera alors intégrée.
point 40.05:
La rue Berri aussi sera intégrée.
Les directions des rues Rivard, Utilités Publiques, et Berri sont changées pour accommoder cette configuration.
Jusqu'au 31 décembre 2025? On est rendus à 7 ans pour ajouter des ascenseurs et refaire une place publique…
Definitely not Japanese efficiency !
Objectif 2025+ je pense. Je pense qu'il y aura de quoi de transitoire.
Pourquoi maintenant ? Ça fait depuis 2004 qu'on parle de réaménager l'espace… la STM a réalisée une place temporaire et la on va encore être dans les travaux jusqu'en 2025 ?