What is happening where they are driving tons of poles into the ground in a small area? Will they have to do this across the entire site? The "thumping" noise is pretty intense for neighbors!
Detailed picture: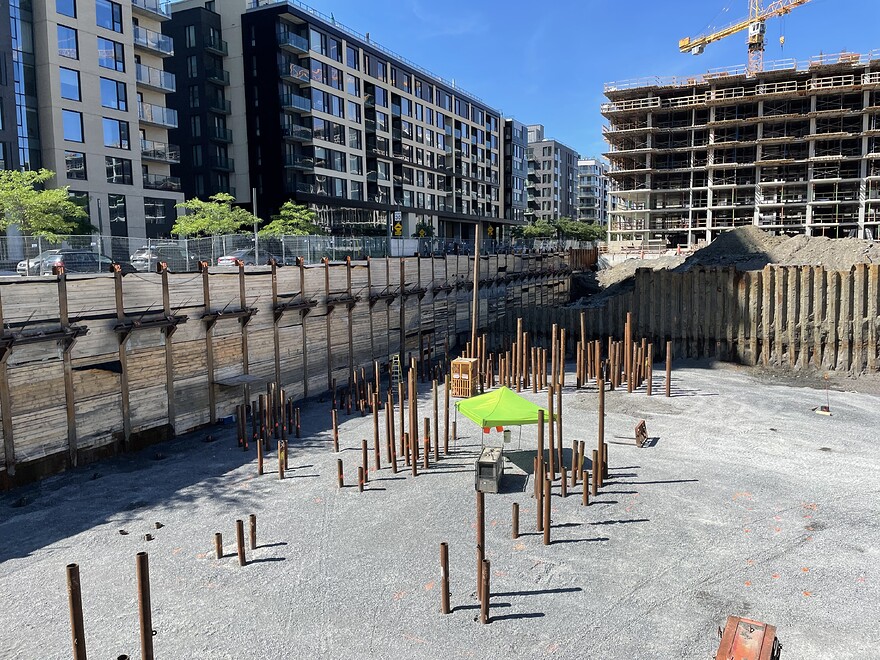 Unfortunately you will have to get used to it, as it probably will last all summer long.
I have seen some thread where neighbours start to worry about vibrations created by continuous hit in the ground. They wonder if there was any study of impact. I admit that this is the kind of things that can be bypassed when huge money is in game. It seems they build a 20 floor tower on a land that is not supposed to have that (had water and used by boat in the old time).
Le bassin qui se trouvait sur ce lieu avait été créé de main d'homme au 19e siècle. Le sous-sol est comme partout autour. Ce sera aussi solide sois sans craintes.
There is already a 20-storey building aligned with this structure on the other side of Bassin street! From my knowledge (as an structural engineer) the majority of the pile foundations in island of Montreal seat on rock and as long as you reach the rock layer you can build even much taller building in the island without problems.
When the piles reach the rock layer the neighbors in other buildings can feel the vibration because their structure is seating on piles that are seating on the same rock layer. For the case of this project the building has a larger area and is slightly taller than the neighbor buildings which consequently requires larger number of piles compare to adjacent structures. On the other hand the pile contractor has only assigned one auger to drive all these piles which seems to be not enough for such number of piles. This elongate the duration of work and make neighbors more furious.
The problem is that neighbors start to worry because the vibration are constant and it's not like a 1 day thing. It's meant to last more than one quarter and some are concerned by more cracks they start to see as soon as this project started.
During the building of the Wellington, cracks apeared in the EQ3 store next door. The store had to close for a couple of months so the wall and rooft can be repaired/reinforced… However, I don't think that the foundations of the EQ3 building are very deep. It probably doesn't have a basement.
definitely agree that it is worrying for the owners of the neighbor properties. Pile hammering (not only at this site but anywhere that is happening) could be dangerous if the adjacent buildings are not supported on a strong foundation (here piles on rock). If the neighbor structures are supported on piles, minor cracks could occur particularly in the slabs and along the dry wall's joints. However, such hairline cracks are typically not considered as "structural" and are not a risk to the structure's integrity and can be repaired fairly easy. But I agree that at the end of the day they are still counted as damages to individual`s properties…
Having said that, creep and shrinkage of concrete and temperature changes are much more important source of cracks in new buildings which typically are not properly addressed during design and detailing of the building!