Vraiment la ville la plus NIMBY…
Pour empêcher le stationnement à moins de 5 m de l'intersection, rien de mieux que des saillies de trottoir verdies ou non, comme on en voit depuis des années sur le Plateau, Rosemont-Petite-Patrie ou le Sud-Ouest. Les autres arrondissements commencent à en installer
Ici sur rue Workman, intersection des Seigneurs devant l'école de la Petite-Bourgogne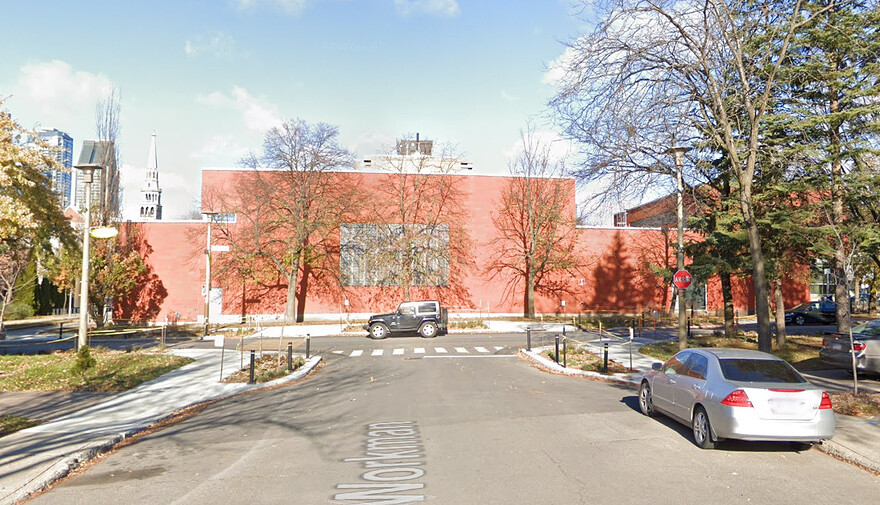 Il y a aussi des saillies virtuelles délimitées par des bollards en attendant les travaux pour l'aménagement permanent.
Exemple, sur Saint-Ambroise, après la collision mortelle entre une automobiliste et un petit garçon qui sortait du centre de loisirs

Ce sera réaménagé de façon permanente en 2023.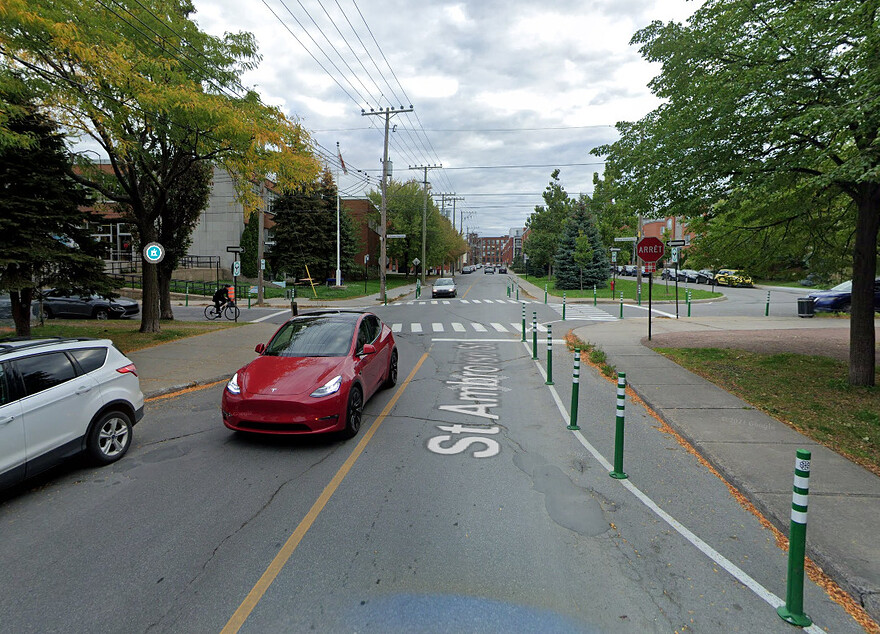 Il y a quelques années, l'arrondissement du Sud-Ouest avait fait un blitz de peinture jaune sur toutes les bordures de trottoirs aux intersections pour indiquer les zones de stationnements interdit Je crois qu'il y avait même des panneaux d'arrêt interdit de part et d'autre de la bande jaune dans certaines intersections
mais ça n'empêche personne de s'y stationner.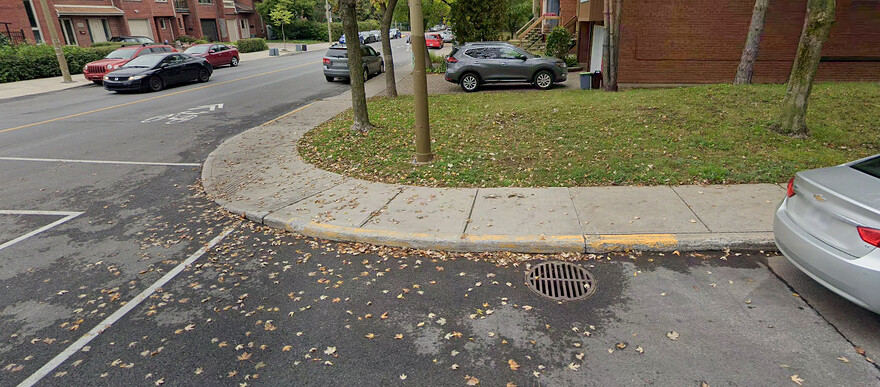 Et la peinture finit par disparaître après quelques saisons
Les mêmes mesures sont retrouvées dans VSL, donc le commentaire précédent comme quoi la règles est appliquée 10 ans après les arrondissements projet Montréal me semble fausse. Dans l'application, je ne vois pas de différence entre VSL et Ahuntsic.
À Verdun c'est assez strict, et le 5m est clairement identifié par de la peinture jaune. C'est repeint annuellement.
Cette interdiction d'immobiliser un véhicule à moins de 5 mètres d'une intersection existe dans le Code de sécurité routière depuis longtemps
C'est le point 4 de l'article 386 du CSR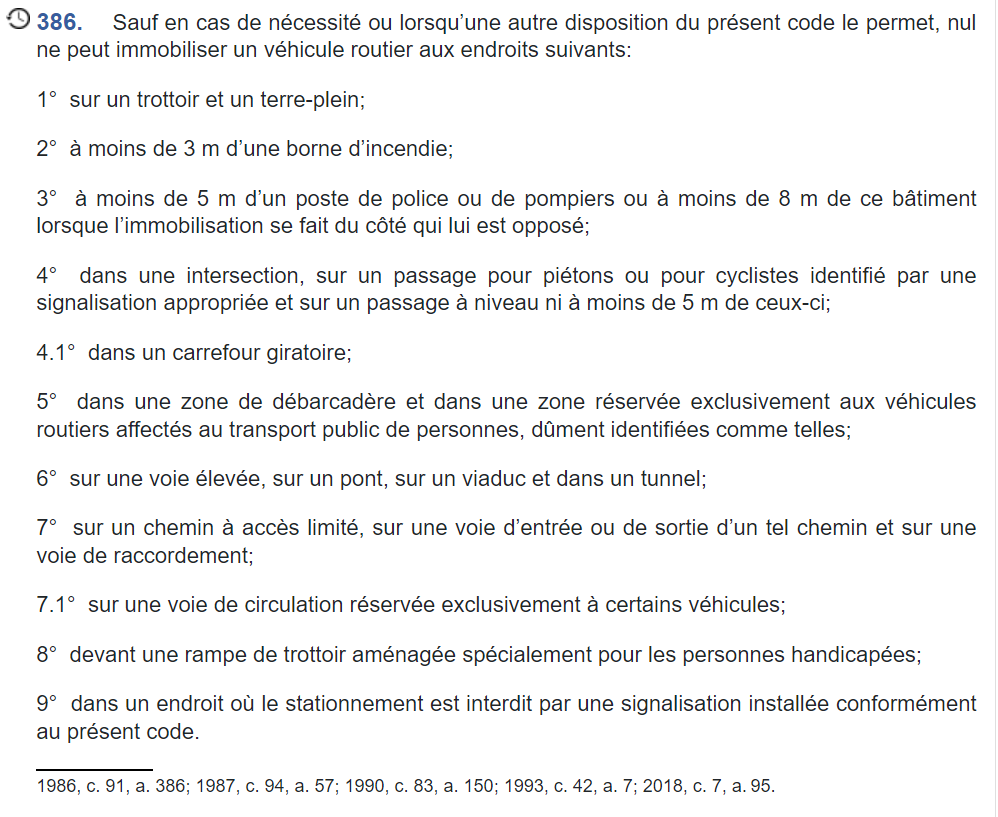 Les années au bas sont les années de révision de cet article
Elle était déja présente avant la révision de 2018. Donc, elle a été ajoutée entre 1986 et 1993.
C'est juste que les policiers ou les agents de stationnement donnaient rarement des contraventions pour ça.
La Banquise is always super touristy, of all times of the day, and people line up outside of the restaurant. Despite that, the sidewalk space is only 2.5 metres wide, leading to people pouring out onto the street, which currently is a taxi zone. Here is a photo from 2021 where they expanded the waiting area due to COVID:

I really feel like if they just got rid of the parking on the other side of the street, they could make the bike lane more protected, and give that taxi space to pedestrians, something like this:

This whole intersection with Avenue du Parc Lafontaine should be rebuilt differently in my opinion .
Completely agree. Many people cross the street here to get into the park (the pathway in the park leads here too) and it's not an official crossing, and isn't even paved on the island: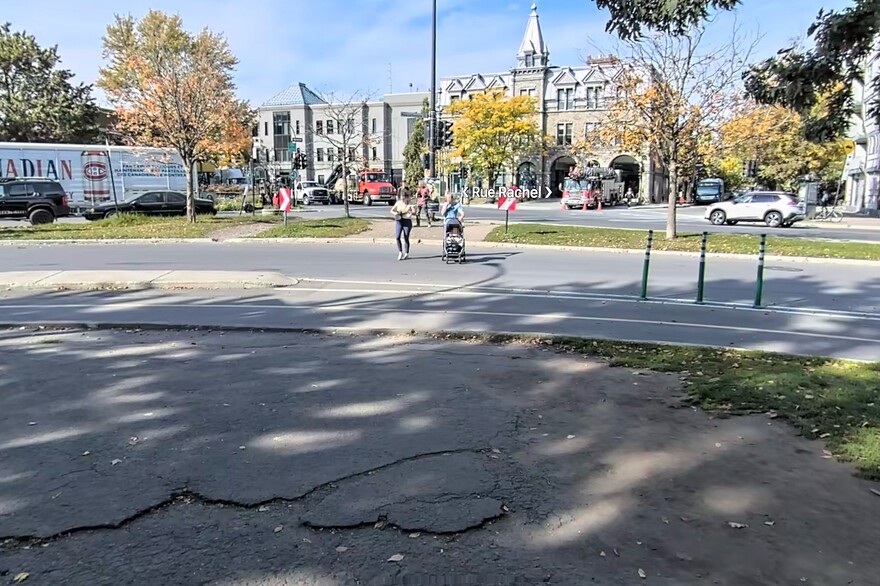 Because it's around a curve, it's not very safe people crossing here, but if people wanted to "legally" enter the park they'd need to walk an extra 100m. I really think a raised crossing with a large crosswalk, something like what's being done at Panama which is also around a curve (not raised yet in this photo), it would be better: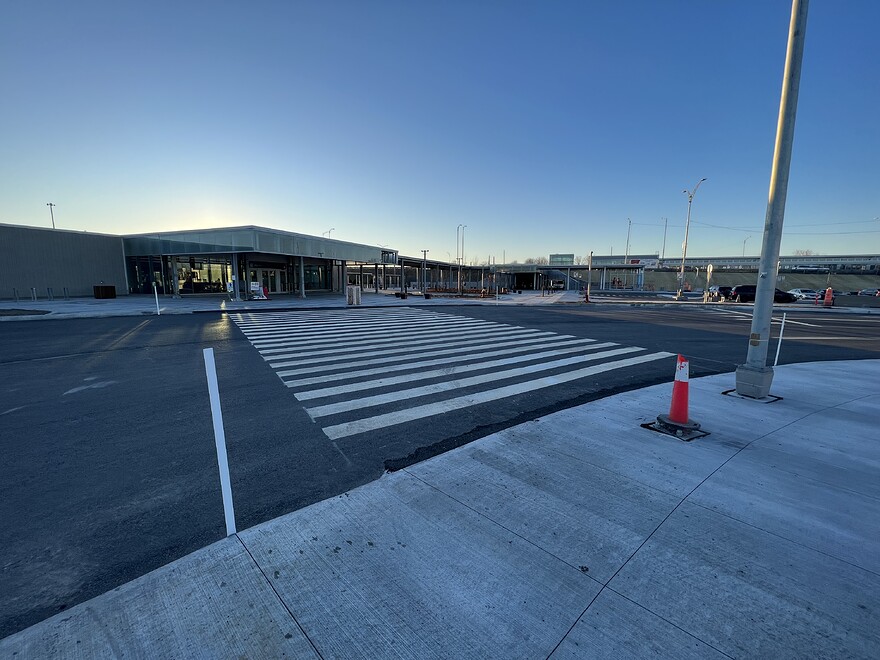 I wonder if Montréal should put back the ''round about'' at Rachel/Parc Lafontaine to secure that intersection & enlarged sidewalks in the area
That would be interesting, not sure how the protected bike lane would work though. Because it's two way, they'd have to make it split, then merge again on the other side. Although, they could make it separated (one way on each side of the street) down Parc La Fontaine…
The Netherlands has a lot of good examples of bicycle-friendly roundabouts, but it would require better standards (eg raised crossings) instead of usual mess of confusing signage we have here.
There was a uni-directional VAS along Parc La Fontaine in 2020. It didn't work that well because a lot of people still used the eastern side of the path as bidirectional so they could access the park from both directions.
La rue Rachel pourrait voir sa portion St-Hubert / Christphe Colomb etre mise en sens unique vers l'ouest et la voie nord de CC qui remonte le long du parc parallele a Rachel etre supprimée et intégrée a Rachel directement. Le transport en commun pourrait emprunter Duluth direction Est pour cette zone.
I wonder if doing this how much time would be added to 29 bus. It already doesn't run that often so it shouldn't be that bad, but it is a bit of a rerouting: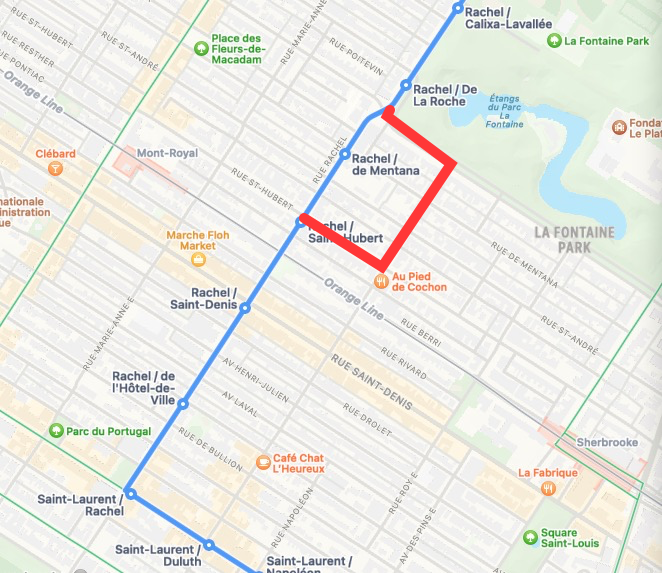 Mais ca donnerait accès en bus plus directement a la promenade Duluth et au theatre de verdure.
Et en direction ouest, rien de changé.
The entire plateau is in desperate need of better east-west bus connectivity, and you want to make it harder?
I'm hoping in the refonte that the 97 more or less gets strapped (Mont-Royal is better off as a ped corridor) and the 29 would then be the frequent route from Station Mont-Royal eastward.