Interventions mineures ayant reçu un avis favorable du CCU le 12 juillet dernier.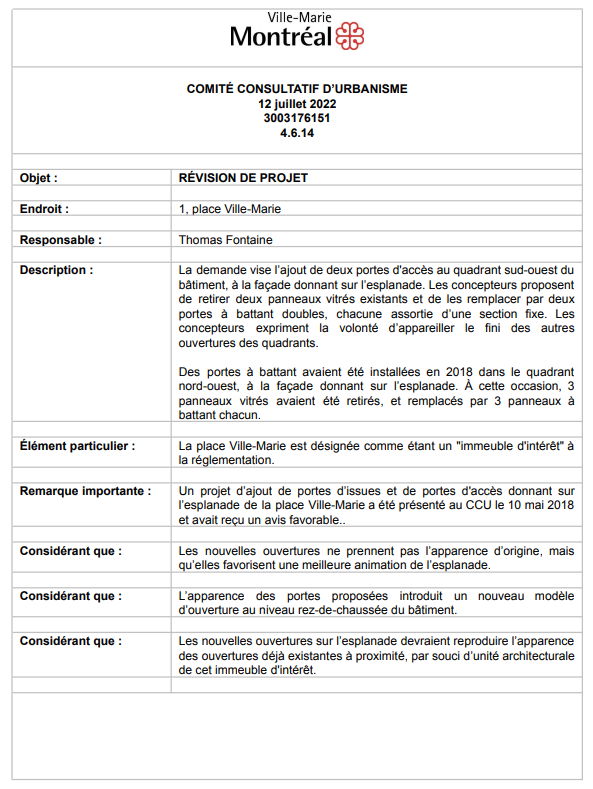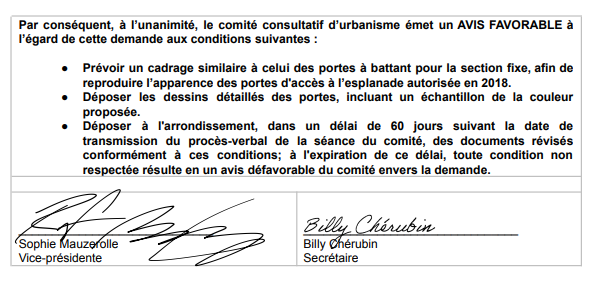 Il faudrait peut-être repenser l'aménagement extérieur qui est tout simplement un immense échec visuel en raison du monolithe de granite trop haut en son centre et qui coupe l'effet d'espace que l'on cherchait à créer entre les tours PV1 & PV5. Il n'y a carrément plus de lien entre ces tours . Le magnifique cubicule contenant l'aménagement d'une salle de réunion passe maintenant inaperçu à moins d'être du bon bord: ce que la plupart des gens ne réalise pas. L'ajout des portes dans ces quadrants va contribuer à l'animation de l'esplanade: ca semble plus un souhait ou une espérance étant donné l'aménagement peu convaincant et de basse qualité qu'on y a implanté en plein soleil et dépourvu de verdure à part les quelques arbres isolés dans cet environnement aride mais que l'on qualifie de ´minéral' pour que ce soit plus acceptable au niveau descriptif.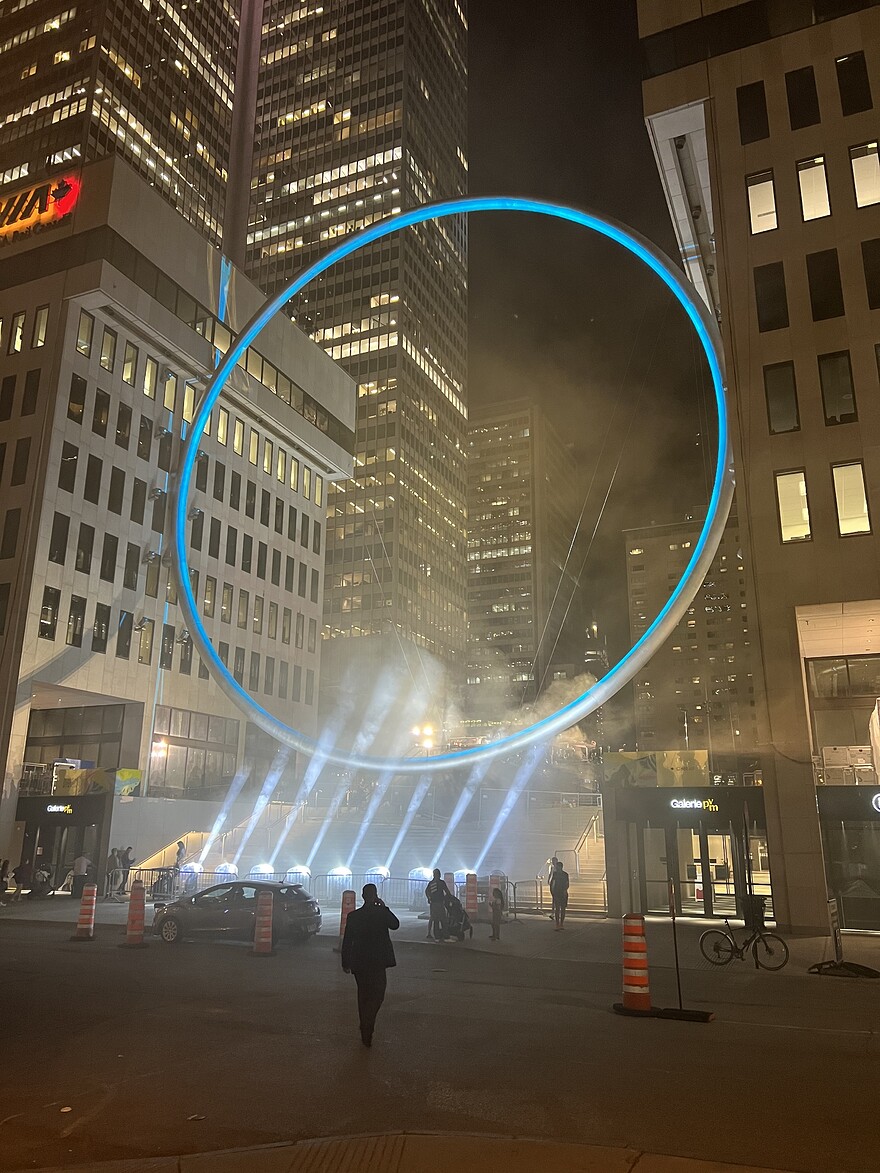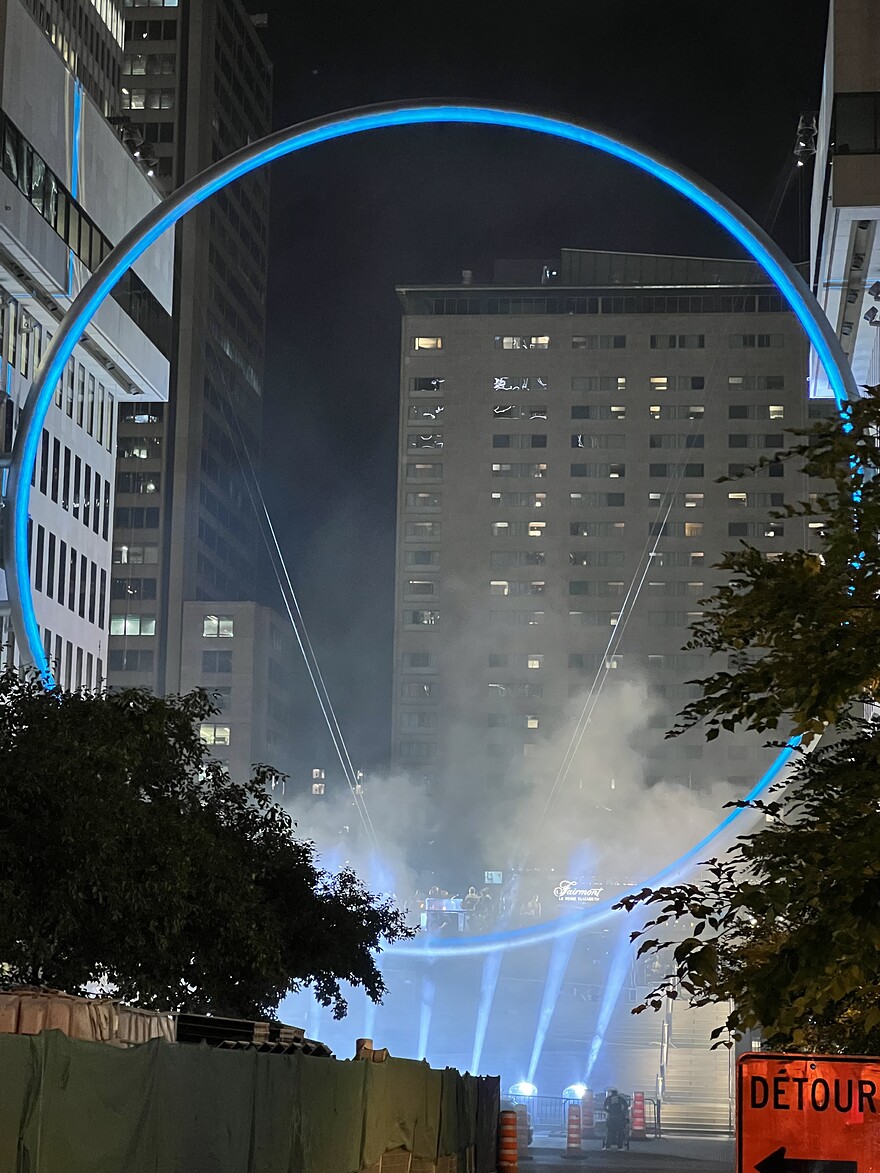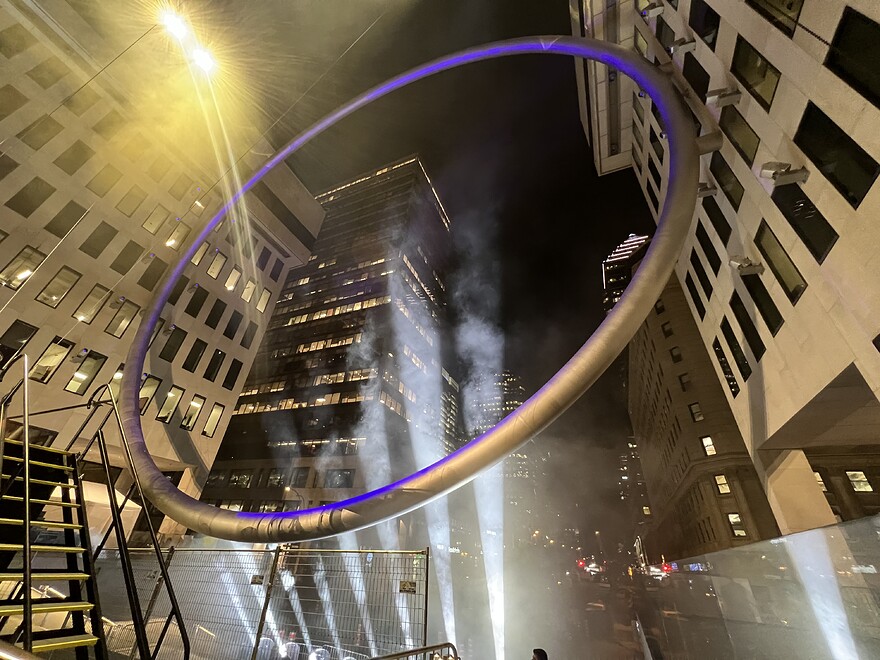 @Claude
We might've seen each other and didn't realize it
@Mashdash :I am still there sitting on the right side.
I was sitting on the right side too, I left about 25 minutes ago though! So close yet so far lol
It looks incredible. Nice pics btw. I'm impressed how precise it is but are the lights stationed there permanently or were they setup just for the show?
I believe the lights that shine around the ring that are colourful are permanent (attached to the building) while the lights shining up through the fog are for the show
I see, that's good. It's a shame though, would be cool if they could conveniently keep them permanently in an unobstructed way but I don't see how unless they could be lowered into the ground until needed.
The show looked awesome though. Wish I was there.
This was just the test! The real show will be Wednesday night!
Ah, great! Time for a trip downtown.
Some of the lights were set up only for the show but the permanent fixed lights give the ring a new dimension and they can also use different lighting colours. The ring was already amazing but with a professional lighting it is even more amazing at night.
Une petite vidéo de l'illumination de l'anneau, mais surtout de la foule pour l'événement ce soir
Quelques photos du l'éclairage

I can't see the cross. Why have we been preserving the only mountain view downtown for?
I vote No!